Why Secure QR Code is the Answer to Oz's growing Fake Vax Menace
When Cointelegraph recently shared their view that Fake vax certificates renew calls for blockchain-based solutions in Australia, we were not surprised.
Founded in 2013, Cointelegraph is a popular resource covering news on blockchain technology, crypto assets, and emerging fintech trends. They claim that their editorial content is based on in-depth analytics, comprehensive cryptocurrency price charts, and digital currency transformation.
While Cointelegraph's analysis of fake vaccination certificates is correct, Blockchain is not the best solution to address the fake vax problem. We have shared about this over a few blog posts titled - Why does Secure QR code score over Blockchain?, or more recently on Why Having Immunity Passports on Blockchain is a bad idea.
As goes the famous André Gide quote - "Everything that needs to be said has already been said. But since no one was listening, everything must be said again."
First things first – what we know about Australia and the fake Vax certificates.
Counterfeit Australian coronavirus vaccination certificates are circulating online.

The Australian, in its report, cites that fraudsters claim to have sold more than 200 fake COVID-19 certificates for $120 each.

There seems to be sustained interest from at least 900 other prospective customers.

The fake products are so convincing to the extent that they claim, "You'll be the only one to know you've not been vaccinated".

And there is competition amongst fraudsters & other vendors of fraudulent COVID-19 certificates claiming to have partnered internationally with doctors across Australia, Europe, the United States.

Some sellers claim to offer more "cost-effective" solutions and sell doctored vaccination records for $12.99 each directly from the Apple App Store.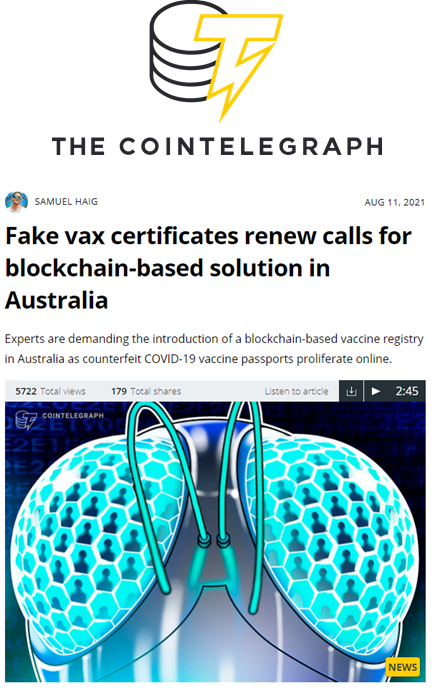 Cointelegraph article
While some voices in Australia and elsewhere are harnessing blockchain technology to ensure that the COVID-19 vaccination certificate system is not compromised, we believe that such a solution is too complicated for a global roll-out. However, if Australian and international authorities want to adopt a tested system that works to achieve the same objective, it can well be done with secure QR Codes.
How should Vax certificates work?
Vax certificates must work offline in air-gapped environments without the need for any connectivity.

Such certificates must work in both Physical-Digital formats. They can thus be presented either on a smartphone or paper.

Centralised generation but decentralised validation. - so that they can be verified on-demand anywhere

It needs to be cost-effective to make this work for public health in all countries.

Highly secure and protect privacy as healthcare data is sensitive information.
Offline Validation and Physical-Digital give QR codes a leg-up over Blockchain
Offline Validation: Vax Certificates need to be validated in scenarios with flaky or no internet connectivity. Border control, stadiums, and event venues are where connectivity can be poor/non-existent or can take some extra time, such as in air-gapped computer environments and high-volume areas. When thousands of people are queued up - the technology to validate and process should be simple and ideally work without any connectivity. Any validation bottlenecks in high traffic areas can lead to public health concerns in a pandemic - the very thing these Immunity Passports are meant to help prevent.
Physical-Digital: Many proposals (not just blockchain-based ones) are purely digital and require users to install a smartphone App (or Mobile Wallets) to present their credentials. We think this is a challenge and an oversimplification that it would work for everyone. Since our public health depends upon verified travel, we need a solution that works for everyone - those without smartphones, those without data roaming when travelling, and those who are less tech-savvy and just more comfortable carrying a printout.
Far more countries have guidelines or regulations governing any healthcare information storage online than you can imagine. And there can be many other issues in data accessibility & retrieval depending upon implementation. However, the main flaw is the need for connectivity to validate.
Secure QR Codes - the faster, cheaper, effective blockchain alternative
Secure QR Codes provides an alternative to the blockchain by retaining the best elements of Blockchain with the universality of QR codes. Secure QR Codes are – faster, cheaper, effective.
Secure QR Codes are a foolproof system that countries can use not just internally within their borders; they can be part of a global system across geographic and economic boundaries that everyone can use to verify – a cryptographic equivalent of a global hologram.
While Blockchain is an emerging technology and is still finding its feet, QR codes including secure QR codes are already in widespread use globally. With this global adoption and the ability to easily scan QR codes from Cambodia to Columbia, the United States to Uganda, South Korea to Seychelles – secure QR codes provide a viable alternative to Blockchain while retaining the core aspect of making Vax certificates tamper-proof.
Is such a solution available today?
Yes - Secure digitally-signed QR codes meet all the requirements. A secure QR code solution uses PKI based QR code mechanism, enabling decentralised validation. The sophisticated technology uses cryptography for quick, efficient, and effective verification using ubiquitous QR codes.
Unlike traditional QR, Secure QR code has an inbuilt fail-safe mechanism. Only authorised issuers can generate it and digitally sign the QR with a private key which can be validated by the corresponding public key.. The QR code encapsulates the critical information that needs to be communicated & verified. With Qryptal's proprietary technology the QR can be compressed and made small for a given amount of information. This secure QR code is tamper-proof and does not rely on any database access for verification.
A simple smartphone app or a web validation mechanism to scan this QR/document can validate the information in both paper and digital format. The verification takes less than a second.
Sample Covid Vaccination Certificate with Secure QR Code
Secure QR code provides an easy and foolproof way to create and verify Authentic Vaccination Certificates. The image above shows how this can be done.
---
You may also be interested in -
---
---