....QR Code generator, Fake QR, Blockchain and many more.
This year, we have done an interesting analysis of the key search terms that web users use to land on our website. We used Google Analytics and analyzed after sifting and collating like-word searches. This is what we came up with.
We find it extremely interesting and thought you would love it too.
The most searched term is 'QR Code generator'. One in five searches was about QR code generation. It is fascinating to see the QR code generation's traction and the fcat that it has become so popular.

What surprised us was that a very high 15% of the search was for 'Fake QR'. This is interesting because not only is QR becoming popular, but it is also leading to bad actors looking to beat the system with Fake QRs. This only validates our long-standing recommendation that secure QR is the right way to counter those looking to take advantage of the lack of security in regular QR codes.

What is exciting is that for the first time, 'Blockchain vs. QR' figures are in the top ten. Visitors were searching for blockchain vs. QR, and not surprisingly as today Secure QR offers many functionalities of blockchain and is a lot easier to deploy and use.
Here is the list of the top ten search terms and a short description of what they mean -
QR Code Generator: QR stands for "Quick Response." When scanned, the QR code should allow the user to access information instantly – hence why it's called a Quick Response code. A QR Code generator is a software system that generates such QR.

Fake QR: As QR usage has started to gain popularity, there are increasingly fraudulent QR codes that are printed and pasted over or used instead of a "real" one. The malicious codes can take credit card information or even open a phone to hackers.

Secure QR: Secure QR code technology is uniquely designed to make any physical or electronic document tamper-proof and instantly verifiable by any third party in a unique server-less architecture. The secure QR code solution easily plugs into existing document production systems.

Passport QR: QR Codes are used for Immigration and Border Security. Such QR Code Solutions work not only for Passports and e-Visas but also for Work Permits, Residency Permits, and Entry Passes, and are used to ensure that the document is secure.

Certificate QR: Certificate QRs are QR Codes generated on fully finished, ready-to-print-distribute secure certificates based on a template. You can generate your Certificate QR code for all types of certificates, Government permits and so on.

Verification QR Code: At its core, QR code technology makes any document tamper-proof and instantly verifiable by a third party in a server-less architecture. The ability to make it verifiable is critical to use it for document security.

QR Code Signature: Every secure QR code generated consists of digital signatures that help maintain high levels of security. They follow specific security standards. For example, Qryptal follows the globally approved RSA 3072 bit signature.

Banking QR Code: The banking and financial services industry continues to be one of the most significant users of QR codes. Millions of financial transactions occur each day, monitored, documented, and analyzed regularly. Banking QR code is placed on documents ranging from simple bank account statements to cheques, trade finance, various types of transaction banking documents, payment instructions, supporting documents, and so on.

Invoice QR: Invoice QR code contains important invoice details such as but not limited to - the GST of the supplier and buyer, invoice number, date of invoice generation, invoice value, HSN code, unique invoice reference number, and the digital signature of IRP. A taxpayer and a tax officer can validate the details of an invoice through the QR code. More and more countries are now mandating the use of QR codes for invoices. Recently Saudi Arabia came up with this requirement for their businesses and Qryptal provides support for such use cases.

Blockchain vs. QR: Unlike blockchain, a secure QR code scores high on cost-effectiveness, low energy consumption and ease of use. Secure QR code itself can be considered to be the immutable distributed ledger in the blockchain. Checking the authenticity is achieved by verifying the information with the help of the corresponding public key distributed as per the issuer's requirements and the transaction.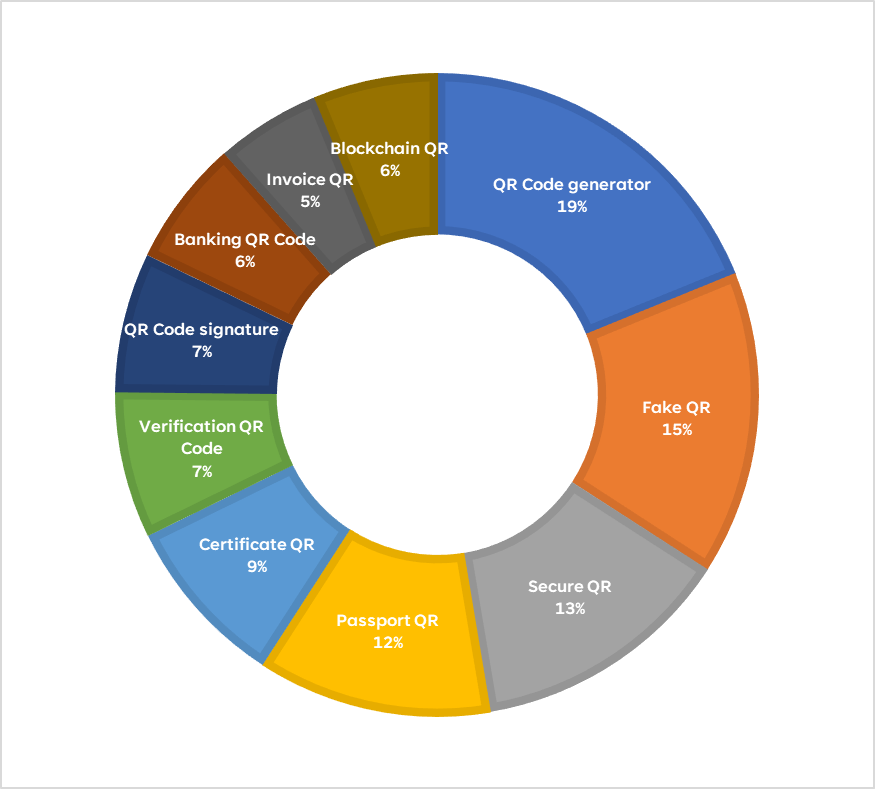 Most searched terms in QR codes
---
You may also like -
---
---