Secure QR Codes in HR Documents: Enhancing Trust and Efficiency.
With their extraordinary potential to enhance document security, secure QR codes are making significant strides in the Human Resources (HR) field. By embedding these tamper-proof codes in various HR documents, companies secure their data and streamline their processes. This article delves into some real-world use cases of Secure QR codes within HR operations.
PAY SLIPS
Pay slips are critical HR documents that detail an employee's remuneration. They serve as proof of income and are used for several purposes, such as securing loans, visa processing, or tax compliance. Including Secure QR codes in payslips ensures that the information presented is authentic and verifiable. With a simple scan, stakeholders can confirm the accuracy of the data, reducing the chances of fraud and misinformation. Download HR Document Security Whitepaper here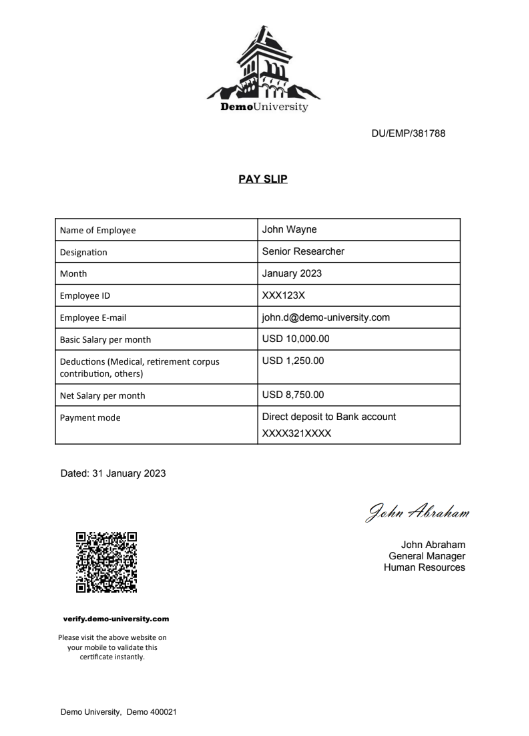 OFFER LETTERS
Offer letters have always been a critical step in the hiring process. They communicate the terms of employment, the roles and responsibilities, and the company's expectations. Fraudsters alter the letter's contents to represent employment terms falsely, often gaining employment elsewhere or securing benefits. This deception can lead to significant reputational damage. Download HR Document Security Whitepaper here
SERVICE CERTIFICATES
Service or employment certificates serve as proof of an individual's employment history, detailing their roles, responsibilities, and tenure. With Secure QR codes, companies can ensure these certificates are tamper-proof and verifiable. Download HR Document Security Whitepaper here
Secure QR codes are revolutionising the realm of HR documents. They enhance the security of these documents and streamline the verification process for various stakeholders, including employers, financial institutions, and immigration authorities. By adopting Secure QR codes, HR departments can bolster document security, foster trust, and improve operational efficiency.
---
Related reading
Download Whitepaper: Mitigating Risks in HR - The Role of CHROs
How can you stop job racketeers from hijacking your potential candidates
Blockchain versus QR code– And the winner is….
Discover the Variety of Secure QR Codes: Your Ultimate Guide
---
---