How Secure QR code adds steroids to remote testing
Singapore's Ministry of Health first rolled out the pilot of a virtual supervised COVID-19 antigen rapid test almost six months ago.
The government teamed up with a local telehealth startup, Doctor Anywhere, to offer rapid test supervision via 30-minute video consultations. As per guidelines, a user must ensure that the contents of the antigen rapid test kit are visible so a supervisor can verify these. They must also insert a swab stick to around 2.5 cm in the nostril. A provider will then send the test result via text and e-mail within four hours.
This was subsequently extended to a bigger list of approved providers for Antigen Rapid Testing for real-time Remote Supervised Self-Swab to fulfil Pre-Departure testing requirements involving Singapore Citizens, Permanent Residents, and Work Pass Holders (including Long Term Pass Holders). It could also be used for pre-event testing in Singapore and outbound travel.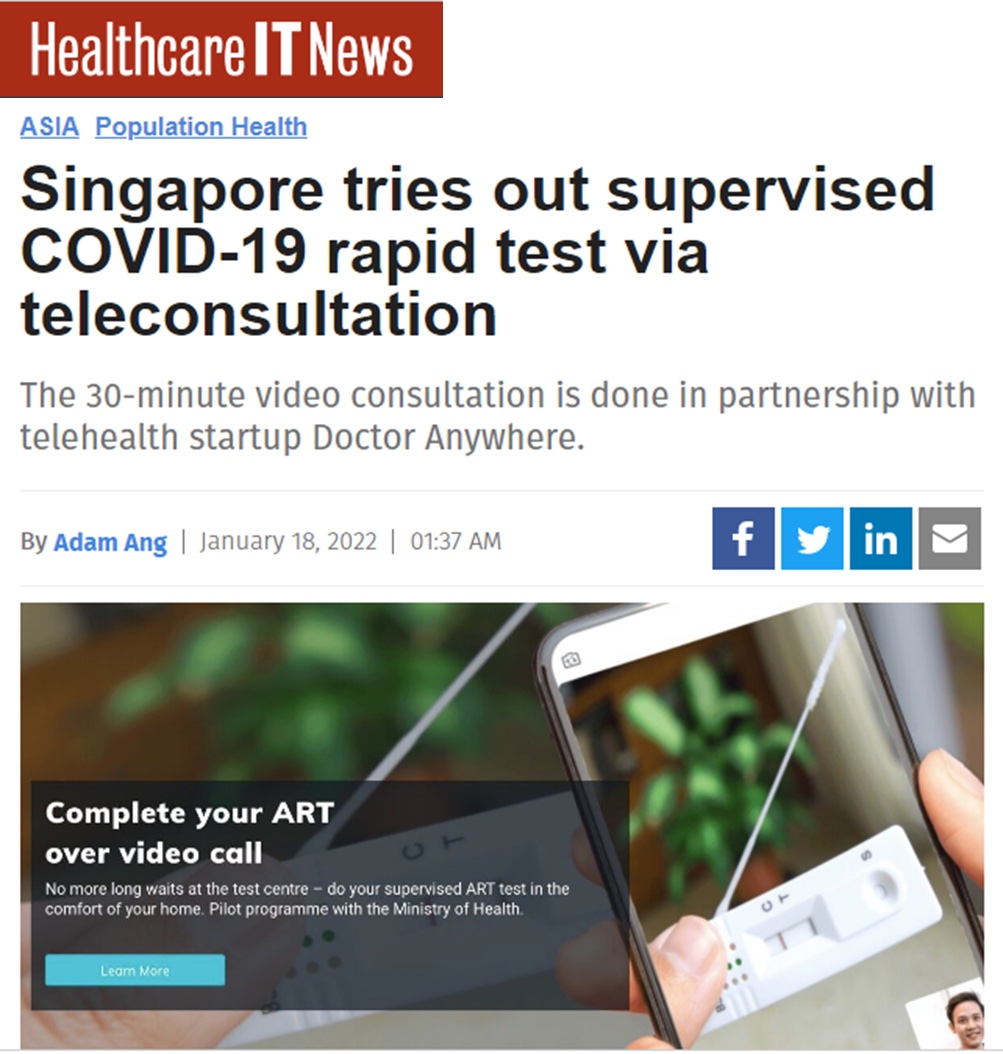 How can secure QR codes help?
While the test results themselves are available within hours, the core outcome of this exercise is the issuance of a COVID-19 test certificate/report. A negative result on the test report is critical for the user for travel or any other purpose.
Since the testing itself is remote and decentralized, it is only logical that there is even more emphasis on the process of issuing a tamper-proof COVID-19 test report and ensuring its authenticity through various verification channels & at all checking points. This is where it becomes vital to use a secure code to create a tamper-proof certificate and ensure the document's authenticity.
The report is either in an electronic document format (usually a PDF) or can even be printed physically. In either format, there is a need to ensure easy validation or verification.
This is usually done by embedding a QR code on the document. The user subsequently shows the document or certificate to the authorities as needed - the QR code can be scanned and verified on the electronic or physical document.
Secure QR acts as steroids for remote testing
In addition to the logistics and the clinical component (including the use of approved test kits) that ensures that the consultation and swab test is foolproof, secure QR ensures that the Covid certificates are foolproof as well. The COVID certificate is generated by the issuing authorities/labs with a digitally signed and secure QR code which can be eaqsily verified by airlines and immigration officials or event organisers or other verifying authorities.
The issuing agency, usually the authorised service provider/lab or Ministry of health or equivalent party in the country, would be responsible for the former. As mentioned, the certificate can be both in physical and digital formats. The verifier either uses a web validation mechanism or an authorised app to scan the QR code.
This is a complex piece of encryption technology with the use of private (for generation) and public(for validation) keys, as shown in the image below.
If for any reason, the QR code or the document is tampered with, the verification would fail. Unlike complex systems like Blockchain, this is a simple and easy to deploy commercial solution which achieves the desired end result in a very affordable and scalable manner.
These are the significant advantages of a secure QR code
Serverless verification architecture helps to protect the issuing agency from external threats and hackers.

Can be used both in physical and digital formats catering to requirements of less sophisticated users as well.

Offline validation is possible, thus maintaining the sanctity of the document in an air-gapped environment.

The QR-coded certificates can be issued with embedded validity timestamps and thus ensure that the document is not used beyond the validity.
Needless to say, as remote teleconsultation takes center stage, a secure QR can be the most optimal way to ensure widespread distribution and the authenticity of the Covid reports. In fact, this is not limited to just Covid remote testing but can be used for any remote testing result and certificate. At Qryptal we already have customers using us for providing such remote testing services.
---
You may also like to read these relevant posts and articles-
---
---