Most Frequently asked Questions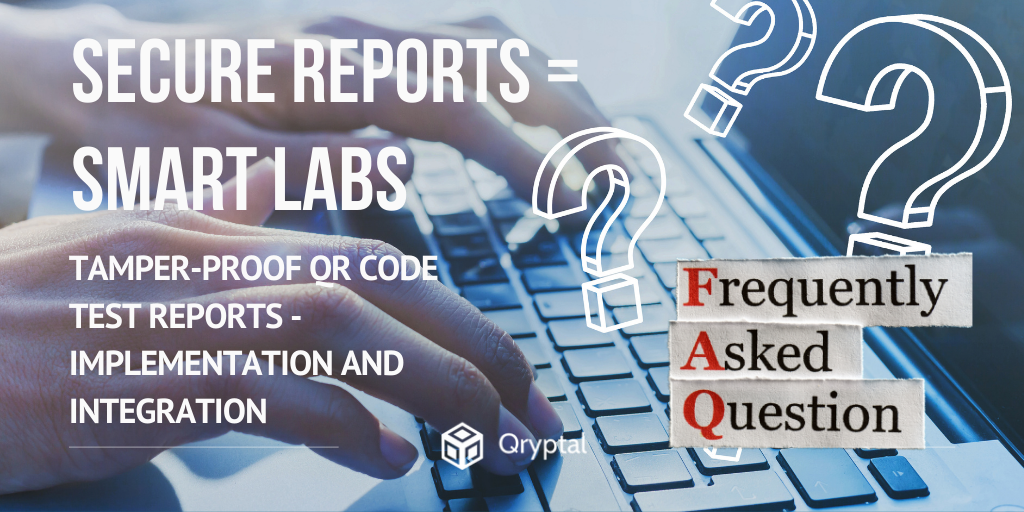 Questions from Webinars (Part 3)
In part 1 and part 2 of this series – we addressed FAQs on
Scanning and Verification

Technology that Powers the Solution

On premise vs Cloud Hosting

Implementation

Printing

LIMS Integration
Now we will look at the third and final set of questions that came up for discussion
Privacy of Data and Security
16. How safe is company data when using cloud servers from infrastructure from Qryptal ?
We go through many audits for global customers, and we also recognise that there can be some government customers or highly sensitive customers who do not want to have the cloud hosted services and that is why we have an on premise option. But once our customers understand how we do security they no longer have any worries or concerns about the security of their data. Each report is going to be uniquely encrypted and the decryption code is in the corresponding QR code. So, nothing is stored in an unencrypted form anywhere.
17. How long will the stored report remain on the server ?
It can remain on the server for as long as you want if you are on a cloud platform. Alternatively, you can store it forever. You can decide for how long you want to retain it. We have had experience of some of our clients storing the covid test report for 72 hours and some of them have a requirement for even maintaining their documents for several years.
Support
18. Are you able to provide support in countries other than Singapore ?
Yes, we are a global Web 2.0 software services company and hence can provide services and support across the world even though we are located in Singapore.
Pricing
19. What is the cost of a software solution ? Do you have yearly plans ? Can you share your pricing options ?
Our pricing is easy and transparent and caters to both on premise and cloud deployment options. Please go to our website and check out the pricing page. Broadly the pricing is based on the volume of transactions. By default you start with our standard secure QR code version (non URL) and then let us know if you want to enable URL based verification. We can help to set that up for you.
20. How can I get a free trial?
You can go to our website www.qryptal.com and on the top right you will see a button for free trial. Click the button and apply for a free trial. In the form that will pop up you just need to give your email address and click submit and immediately you will have a test environment where you can try it out and see for yourselves. You can click on "complete set up" tab to upload your logo and your domain (for setting up the verification domain). Please follow the instructions given there. Our team will get in touch with you and hand hold you in getting started.
21. Do we get discounts on yearly subscriptions ?
Yes. Please get in touch with us for more details.
22. What infrastructure is required to implement the system at our end ?
If you are using the cloud version, you require absolutely nothing. You just use your browser to log into our system, and no software needs to be installed. And if you are installing it on your own server (on premise), that requires a discussion but typically you require a Linux machine, it could be virtual or a physical machine and any recent version of Linux will be fine with at least 512MB RAM and 8GB disk space for example. The storage space is dependent on the number of documents you will be storing. Suppose each report is one megabyte then you can do the calculation. You can add about a 25% buffer for encryption. Storage depends on how much megabyte is each report, and how long you want to store it.
---
You may also like -
---
---