An incredible year behind us with a promising future ahead
It is that time when we are with our families getting ready to celebrate the new year while looking back on the one just gone by.
2021 has been an incredible year for the team at Qryptal, as the world started getting back on its feet even though the pandemic continued to rage. As a result, we had more opportunities to contribute and build remarkable innovations on the product front.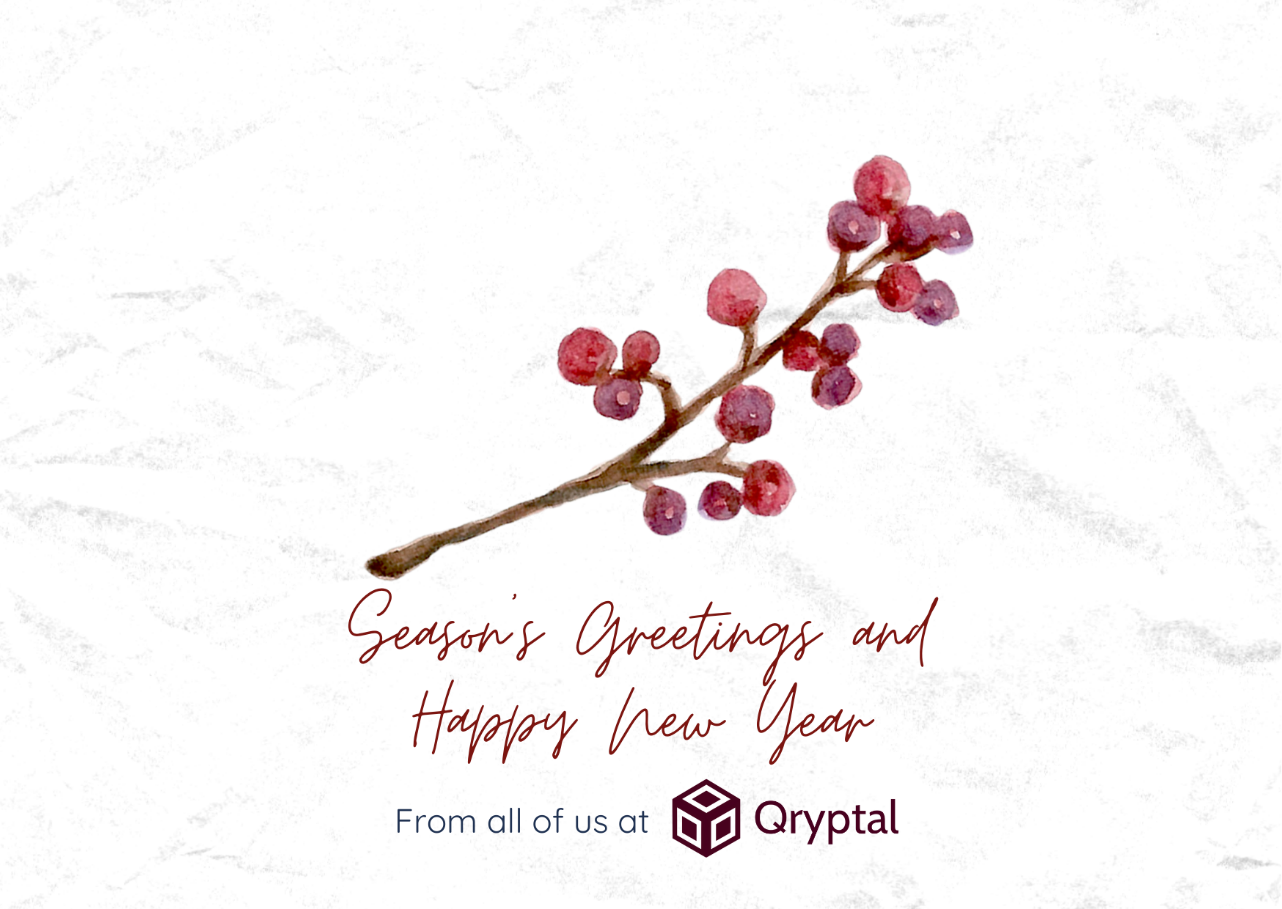 How Was It For Us At Qryptal
2021 has been a roller-coaster for us as well. And like many others, we too have learned to adapt to new ways of life and even appreciate some of the changes that have come about.
At Qryptal, we are delighted to get a considerable boost towards our vision of having all documents secured and easily verifiable in 2021. The adoption of secure QR codes that started its increase in 2020 has continued strongly into 2021. The pandemic has been both a direct and indirect catalyst in driving adoption due to the increased need for instant decentralized validation of information for public health.
Our customer base doubled in 2021, and usage grew by more than tenfold. We added customers ranging from small not-for-profit organizations to governments and Fortune 100 companies. We also added customers in over ten new countries bringing our installed base to greater than 30 countries spread over six continents.
Secure Qr Code Technology Gets A Massive Boost In 2021
2021 has brought about more innovations in our product and use-cases for our clients
1. Vaccination Certificates and Covid test reports show the benefits of large-scale adoption of this technology.
2. QR code-led solutions vs. Blockchain: The rising popularity of blockchain technology has had the spin-off effect in looking out for affordable, easily implementable alternatives, like secure QR codes. As a result, QR code-led solutions are becoming more mainstream, with Governments and enterprises worldwide going in for them.
3. Easy onboarding and quicker deployment: We have made great strides in developing our technology further by adding new features to support even the most demanding customers while making onboarding and deployment easier.
A Few Selected Technology Highlights:
Verifiable Covid Test Reports: Many large and small laboratories across the globe have adopted Qryptal's highly adaptable solution offering offline verifiable and privacy-preserving secured code. In addition, we were able to provide a range of solutions to integrate our solution with complex and hard-to-modify LIS systems. e.g., post-processing of PCL and PDF files to extract data and stamp them with secure QR codes before being delivered to printers or email systems without changing existing systems.

Vaccination Certificates: Many countries worldwide are issuing inter-operable EU-Digital Covid Certificate (EU-DCC) standard-based verifiable vaccination certificates. Qryptal team has contributed towards EU-DCC open standard development and tools to facilitate its adoption. Apart from contributing to the community, we have helped our government clients roll out nationwide vaccination QR generation and validation systems on a large scale. For example, one of our clients issued HSM (hardware security module) backed EU DCC Certificates to nearly 40% of their population over a weekend using the Qryptal!

Active Directory-integrated QR Codes: Using Qryptal's highly adaptable solution offering, our government client-generated verifiable ID Cards for their employees, enabling any person to scan and validate the credentials of their employees, including their photo and save the contact details on their phonebook. With the help of Active Directory integration capabilities developed by Qryptal, a fully automated seamless business process was implemented quickly.
We hope to build on these and add new capabilities and customers in 2022. We are also pleased to invite you to read the Year-End Special blog post titled - Most Read Blog posts in 2021.
We thank you for your continued support and patronage. We look forward to working with you in 2022 to increase trust by enabling easy validation of information.
We wish you good health and all the best for 2022!
Your friends @Qryptal
Qryptal in 2021
---
---