COVID has given a significant boost to the consumerization of QR codes
The last two years have been a bumper year for the growth of QR codes across the world. The two visible things that have increased during the pandemic are masks and QR codes.
In this two-part series, we will discuss the state of QR Codes in 2022 and assess if it is a double-edged sword? In this first part of the post, we will discuss the rapid growth of QR code adoption worldwide. Then, in the subsequent post titled- QR Codes in 2022 – How to create a Secure QR Code? – we will discuss the steps you can take to be safe while using QR codes (with the example of a few use cases) and how to make the codes secure and tamper-proof.
The two-dimensional QR code can hold and convey a wide variety of information almost instantly with a mobile device scan and is far more potent than regular barcodes.
While a barcode holds information horizontally, a QR code holds information in both horizontal and vertical directions.

QR code can hold 100X more information than a barcode. For example, a QR code can store over 7000 digits or 4000+characters.

QR codes can link web pages (URLs), PDFs, text, and images.
While QR codes have been around for over 25 years since Masahiro Hara, an engineer at Japan's Denso Wave Corp., invented it in 1994, the surge in QR code usage has happened only over the last few years. Then, QR codes were presumed to be used for business purposes. So when the general public started using this, even Mr. Hara was surprised. He could have never imagined that QR codes would be used for payments or electronic ticketing or various other applications as is being done today.
Consumerization of QR Codes
QR codes have become an integral part of our daily lives. QR Codes are stamped on the walls of mom-and-pop shops and COVID-19 test reports & vaccination certificates. Almost every product manufacturer or service provider uses them to drive home a specific objective.
Walk into a store in Guangzhou (China) or Gurugram (India) or an upscale restaurant in Brussels (Belgium) or Boston (US). You won't have to wait for the waiter to order your food. Instead, you have to point your smartphone camera and scan the Quick Response [QR code] pasted on the table. The whole process of ordering food was made contactless with a QR code. A menu will open on your phone. Once you have placed the order, alerts will go out to chefs in the kitchen and for the bill preparation at the payment counter. So it has t made it safer as no one needs to touch the same menu card across the restaurant.
Making a payment has become very easy now. There is no need to swipe credit cards or use cash transactions requiring a human touch. Even the keying in of the PIN on the swiping machine is avoided with the QR code.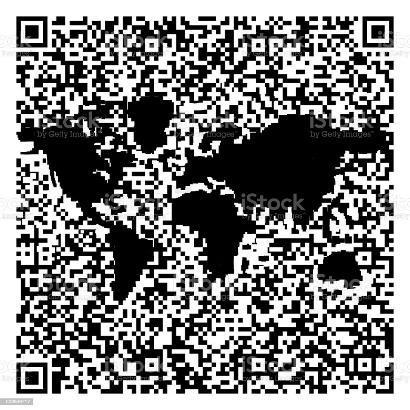 QR codes have become a part of our daily lives. Almost every product manufacturer or service provider is using it as per their requirements and objectives. Payments and fintech players, FMCG companies, retailers, travel operators & hospitality businesses, food companies, the healthcare sector, and even donation platforms use the code with varying degrees of success.
Customization of QR codes
The internet search will lead you to dozens of websites and mobile apps that allow you to create QR codes at no charge.

Some of these apps even customize the codes and build branding around a company's or product.
Verification of QR Codes
QR codes can be scanned with a simple smartphone or a tablet.
Figure 2 Image Source - https://www.qryptal.com/img/industries/scanning-the-code.png
One code has many uses
QR codes bridge the manual interface with a digital interface – the phygital scenarios.
Marketers use QR codes to disseminate information regarding products or services.

Manufacturers use them to help customers scan the ingredients/contents.

QR codes provide information about the entire manufacturing cycle and the processing steps.

Sellers use them to build authenticity.

Manufacturers use them to have product or value chain traceability.

QR codes help to explain the product better and provide supporting information and documentation.

QR Coding also brings in efficient ESG (environmental, social, and governance) requirements.

Scale-up out-of-store channels as people can scan and pay in stores with easy and faster accounts reconciliation.

It complements traditional advertising by helping in communicating additional and supporting information.

The hospitality and tourism sector, including Forex dealers, tour operators, Airports, and large hotel chains, use QR codes to make their businesses contactless with scan-and-check-in options.

QR code has revolutionized the travel industry and stopped people clustering around counters and waiting areas.

The Healthcare sector uses QR codes to filter visitors based on their service requirements. Hospitals use them to book doctor appointments, patient registrations, order medicines, and make payments.
COVID Certificates and test reports
In recent times, possibly most significant use and validation came from using QR codes on COVID-19 test reports and vaccination certificates for authentication purposes. Upon scanning the code, if the vaccination certificate is genuine, the screen will display a message saying, 'Certificate successfully verified.' If it is fake, the message box will flash 'Certificate invalid.' The QR code can be scanned and verified by airport/immigration authorities.
Payments
The popularity of QR codes soared across the world after payment companies (and other fintech players) in Asia started using it as an instant payment system.
Not surprisingly, QR code-based payments non-profit organizations and charitable trusts saw the scan-and-pay donations contribute almost 25% of total contributions during the COVID times for some organizations like GiveIndia.
B2C and peer to peer payments gathered deeper roots in India, China, and elsewhere where people were apprehensive or found it cumbersome to deal in cash and carry currency notes. India alone sees over 10,000,000 merchants have QR codes to accept payments.
But then a word of caution -
With such widespread use, the issuers of QR codes own a big responsibility to have secure and tamper proof QR codes. Unfortunately, there are enough and more scamsters who use this rapid growth in QR adoption to dupe customers with fake QR codes. Hence, it is paramount that a secure QR code is generated at the source.
In our next post - QR Codes in 2022 – How to create a Secure QR Code? – we will discuss the steps you can take in a few use cases and how to make the code secure and non-tamperable.
---
You may also like -
---
---