100% tamper-proof Vaccine certificates a reality with Qryptal Secure QR
It is terrific news that the new Covid vaccines are showing excellent efficacy rates. For example, Russia's Sputnik V is supposed to have an efficacy rate of 97.6%. Yet, just high vaccine efficacy alone is not enough to stop this pandemic spread.
As the vaccination process continues to gain momentum in various parts of the world, a new trend has surfaced on the dark web. Fake vaccination documents are reportedly being sold at about $250. These counterfeit documents allow 'buyers' to masquerade as vaccinated individuals who are now free to travel to various parts of the world despite the lockdown restrictions.
Fake COVID-19 Vaccination Certificates are adding fire to the pandemic in more ways than one can imagine. These are reportedly being purchased by people seeking to board flights, cross borders, attend events, and for work. The risks of such forgeries can be significant and pose a nightmare for governments, authorities and healthcare workers.
Such fake documents risk spreading the virus to more people across geographies and country borders. People who indulge in buying and misusing these fake documents continue to endanger the lives of themselves and those around them.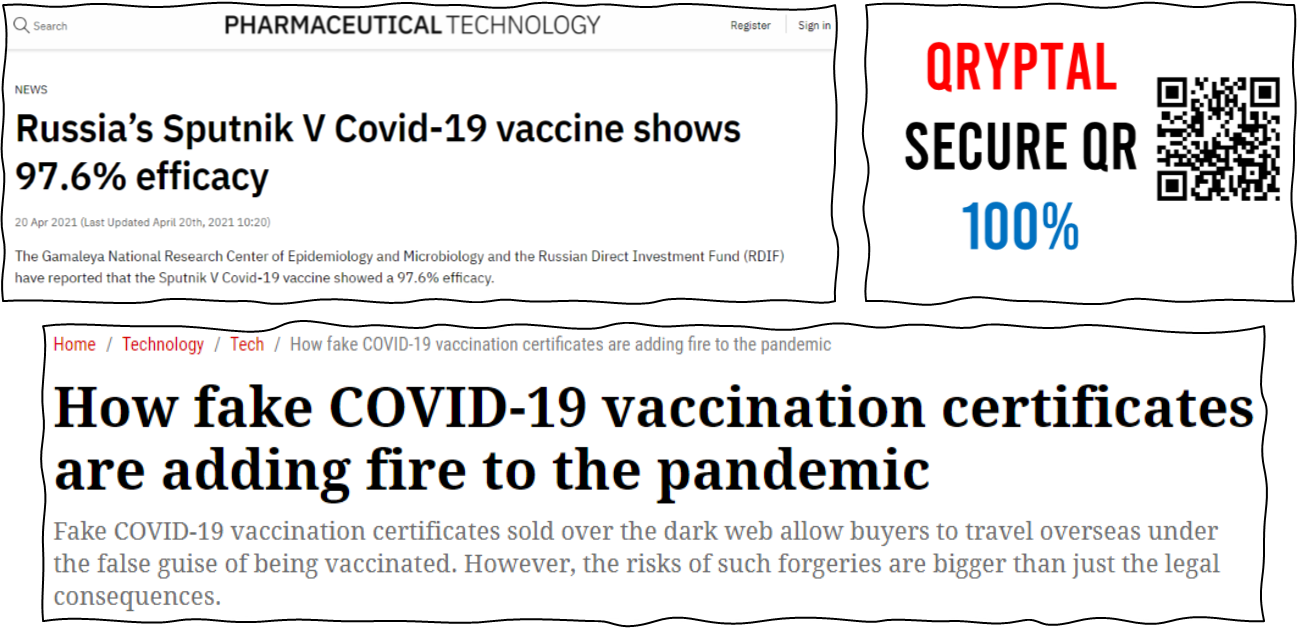 Sample news articles
What are these 'Fake Vaccine Passports ?
The documents available for a fee on the dark web use the template derived from an original vaccination certificate. The forgers use the 'buyers' details to create fake vaccination documents, which are then sent to the buyers. The buyers are then free to use these fake documents in their digital or physically printed formats to convince authorities that they have been vaccinated, making them eligible to travel and for other purposes as required.
The darknet advertisements for COVID-19 Vaccine Certificates have increased by over 300% in the past three months. Further, the fake vaccination documents are available for different vaccines, The buyers have options to choose from a range which includes AstraZeneca, Sputnik, SINOPHARM and Johnson & Johnson etc. There are even offers - "Buy two fake certificates and get 3rd one free" – on such certificates. Since this is a quick money-making scheme, there is a surge in fraudsters competing to come up with schemes to attract buyers. [Source - How fake COVID-19 vaccination certificates are adding fire to the pandemic]
Why would a market for such certificates exist ?
There is a massive shortage of vaccination doses in general especially in the developing world. It is estimated that the uneven distribution of the world's vaccine production & supply will continue for a long time hindering the ability for everyone to get vaccinated. In addition, the countries have started prioritising these jabs based on various risk criteria, thereby resulting in long queues and thus 'buyers' are looking at options to get one easily and out of turn to fulfil their need.
Why is it easy to forge Vaccination Certificates ?
The key reason is the inability to provide a secure mechanism to ensure that the vaccination certificates are tamper-proof at the source, both in physical and digital format. Each country and health authority has its own system of generating a PDF document, a handwritten certificate, or incorporating a QR code with URL redirection (extremely bad from a security perspective as it leads to QR phishing)

The associated reason is the inability to do a standardised verification across formats (paper or digital) and across geographies, including in locations with limited network connectivity or in air gapped environments.
Qryptal Secure QR – results in a 100% tamper-proof certificate
Qryptal's unique, secure, digitally signed QR codes meet all the requirements of making such certificates 100% tamper-proof. The solution uses a PKI based mechanism enabling de-centralised validation. The sophisticated technology uses standard cryptography for quick, efficient and effective verification using ubiquitous QR code.
Inbuilt fail-safe mechanism at source: Unlike traditional QR, 'secure QR code' has an inbuilt fail-safe mechanism. Only authorised issuers can generate and digitally sign the QR code with a unique private key. The QR code encapsulates the critical information that needs to be communicated and verified, and Qryptal's proprietary technology means a compact size QR code for a given amount of information. This secure QR code is tamper-proof. The QR code can be easily verified by the corresponding public key through various options such as a smartphone app or web validation tools or even through an API.

Physical-Digital: These certificates can be generated electronically and even printed in physical format with no loss in their security or credentials. Even within digital format, there are options - one can have an image or PDF. Copies would also work as the important thing is information integrity.

Easy and Offline Validation: Validation mechanisms include using a) A simple smartphone app b) going to a web validation page and using a mobile/laptop camera to scan the code or c) just uploading the PDF/image on that page. The verification takes less than a second. For Vaccination Certificates the QR code used is the one where all the information is self contained within it. Hence this can be validated offline in remote locations with flaky or no internet connectivity. A police officer can scan it on the road to enforce lockdowns or immigration control authorities can verify it to allow a traveller's entry. It can be used in stadiums, schools, malls, or event venues
Sample Covid Vaccination Certificate with Secure QR Code
You can have the most advanced and efficient vaccination like Russia's Sputnik V with 97.6% efficacy. Still, unless the vaccination proof or certificate is also 100% tamper-proof and easily verifiable, this entire exercise is like having a most secure cage with its door open.
---
You may also like to read -
---
---