Unveiling Qryptal's AI Chatbot : QBot - Elevating Document Security Experience
We're excited to announce a significant enhancement to our website's customer and user experience – the new QBot: Qryptal AI Chatbot. At Qryptal, we strive for our commitment to innovation and continuous improvement. In line with this philosophy, we're excited to share that we've been experimenting with the AI Chatbot to provide faster, seamless support to our website visitors. This sophisticated feature, trained on over 12 years of accumulated Qryptal knowledge and customer interactions, is designed to provide a seamless and insightful experience for all your document security queries.
The Power of Qryptal's QBot
Your QBot is not just a chatbot; it's a comprehensive guide to document security built on the extensive expertise that Qryptal has accumulated over the past decade. So whether you have a simple question or a complex query, your QBot is here to provide timely and accurate responses at any time of the day.
24x7 Seamless Customer Experience
The Qryptal QBot is available 24x7, ensuring that you can get the assistance you need whenever you need it. Whether a first-time visitor or a long-time customer, your QBot will provide a seamless experience, making document security more accessible and understandable.
Ask-Me-Anything (AMA) Feature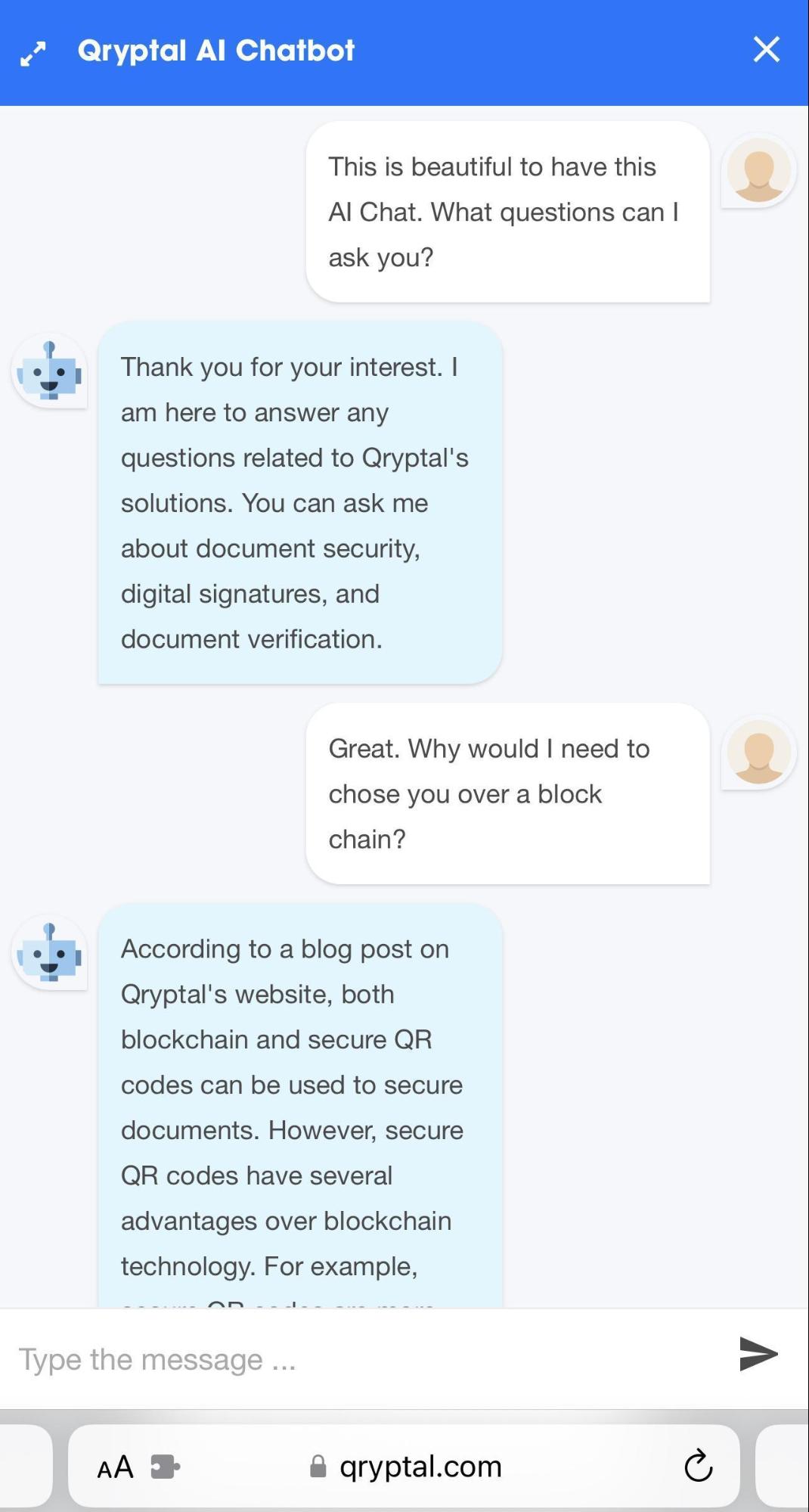 Your QBot comes with an 'Ask-Me-Anything' feature, allowing you to ask any question related to document security. This feature enables us to deliver personalised customer service at scale, ensuring that all your concerns and queries are addressed promptly and accurately.
A Note of Caution
While AI technology has significantly advanced, we understand that it's not perfect. Though we've spent several months meticulously training QBot, ensuring it's primed to serve your needs in the most efficient way possible, there may be rare instances of Qbot being incorrect or providing irrelevant responses. This training and upgradation of the knowledge database is an ongoing effort.
Conclusion
Qbot is more than just a chatbot. It's your guide to document security, trained on 12 years of Qryptal expertise. So whether you have a simple question or a complex query, rest assured that The QBot is equipped to provide accurate and timely responses at any time of the day. As always, you can contact our team at info@qryptal.com for more detailed questions and to schedule a call.
With the launch of the QBot, we aim to provide a more efficient, engaging, and personalised customer experience. This new feature will make your journey with Qryptal more enjoyable and rewarding. So try it out today, and let us know your feedback.
#Qryptal #AIAssistant #DocumentSecurity #CustomerService #24x7Assistance
---
You may also like
---
---