Meet QBot - Your Multilingual Chat Support in 95 Languages
At Qryptal, we strive to enhance our customer experience and provide the best possible support. We understand that our diverse customer base has varying language preferences and want to cater to those needs. We're excited to introduce our newest team member, QBot. This AI-powered chatbot can understand and process questions in 95 languages!
Gone are the days of struggling to communicate in a language you're not comfortable with. With QBot, you can ask questions in any language you prefer - English, Spanish, French, German, Chinese, Japanese, Arabic, and many more. In most cases, QBot will respond in the same language. However, there may be occasional instances when it responds in English.
QBot leverages advanced natural language processing techniques to understand your questions and provide the most relevant answers. We've spent several months training QBot to ensure it can effectively assist you with your queries.
We understand that AI technology is not perfect, and there may be instances of incorrect or irrelevant responses. We're committed to continuously training and improving QBot based on your feedback.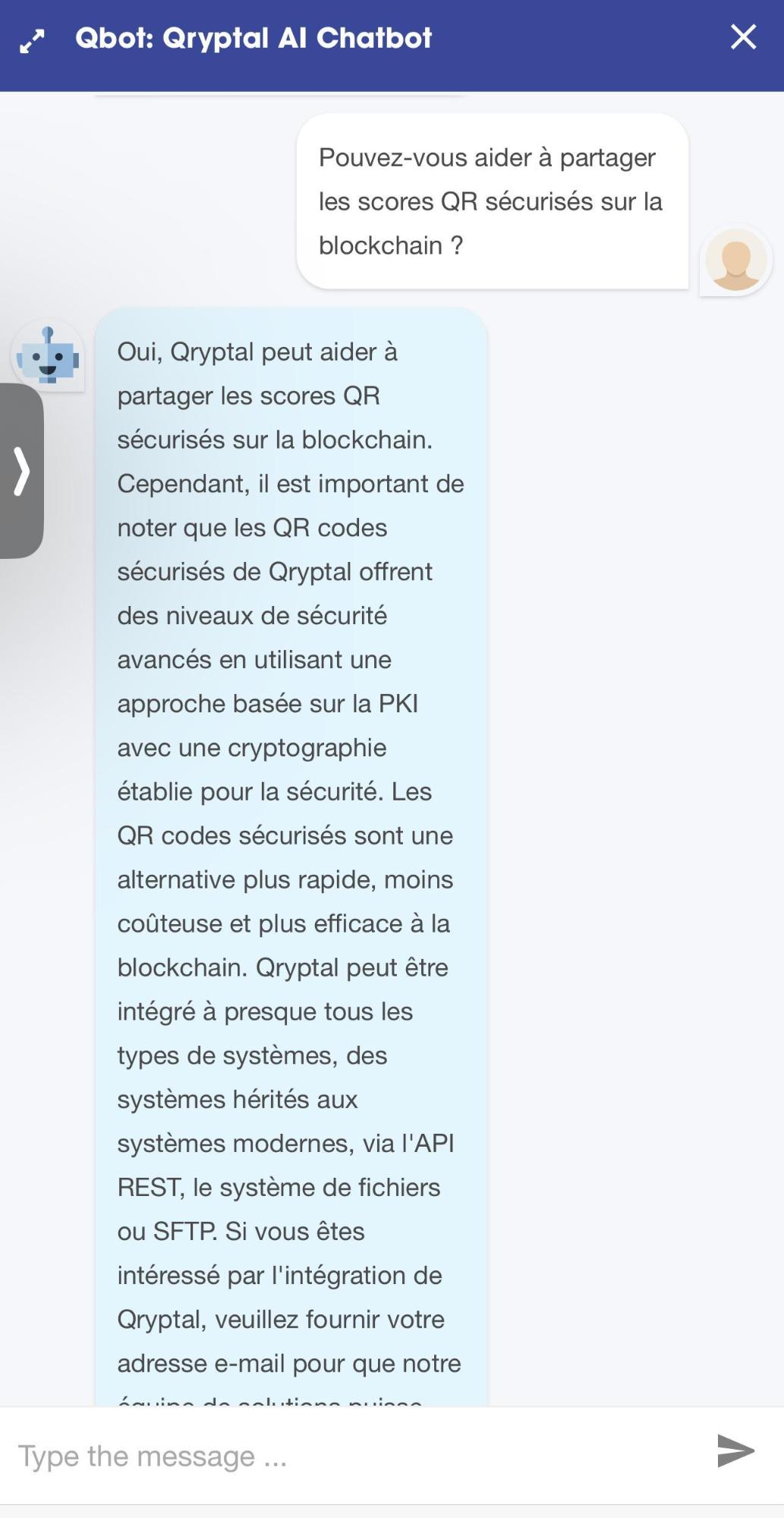 So, go ahead and give QBot a try! Feel free to ask our newest member any questions in the language of your choice. We're confident that QBot will make your experience with Qryptal even better.
At Qryptal, we remain dedicated to providing innovative and effective mobile-enabled products and solutions for businesses of all sizes. Our solutions are designed to meet the needs of today's digital world, and we are committed to helping our customers secure and protect their critical data and documents.
Experience the power of QBot and our exceptional support today!
---
We recommend checking out the following resources:
Unveiling Qryptal's AI Chatbot : QBot - Elevating Document Security Experience: The Qryptal QBot is available 24x7, ensuring that you can get the assistance you need whenever you need it.
Secure QR Code Technology: Discover how Qryptal's secure QR code technology can help prevent document forgery and enhance security for your business.
PDF Stamping using Secure QR Code: Learn how Qryptal's PDF Stamping solution offers a cost-effective and easy-to-implement method for securing your documents.
Qryptal's Use Cases Across Industries: Explore the various applications and use cases of Qryptal's technology in different sectors, from finance to healthcare, and see how we can help your organization.
---
---