Empowering the Drive Towards Africa's Economic Growth
Introduction
Africa is undergoing a huge transformation in its financial sector with technology adoption and tamper-proof documents hold the key. Africa's financial institutions are now looking for innovative solutions to meet the ever-increasing demand for secure document identity credentials as well as reliable document authentication. Qryptal Secure QR Code technology is one such solution which enables document security in Africa's Financial Sector in a sustainable and scalable fashion with quicker implementation.
Financial Inclusion key to driving Africa's Economic Growth
Financial inclusion is key to driving Africa's economic growth. The continent has a population of 1.3 billion people, and the number of mobile money users is expected to be 650 million as per World Bank. 57 per cent of Africans do not hold any kind of bank account, including mobile money accounts.
Hence, African governments and fintech companies are increasingly finding ways through which they can leverage technology to transform their economies and deliver better social services for their citizens.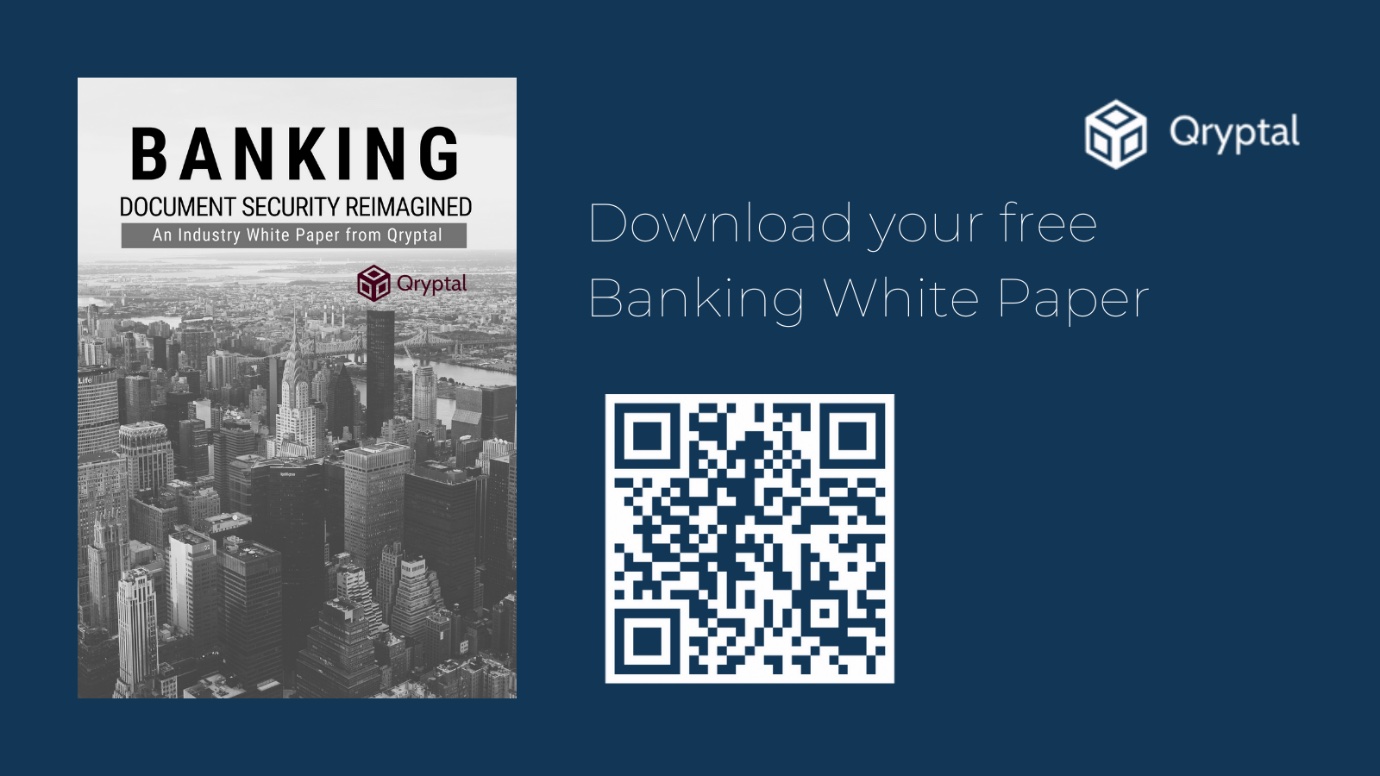 Document Security is important for Financial Services Industry in Africa
Document Security is a key driver of the Financial Services Industry in Africa or anywhere in the world. Financial institutions and banks depend on document security to provide credible documents used for identification, authentication, and authorization purposes. For governments, document security is also paramount in issuing credible identity documents that enable citizens to access financial services.
Credible and Tamperproof Credit Reports, Bank Account Statements, Loan Processing documents, IDs, and Trade Documents are important steps to ensure banking for the unbanked
In Africa, financial inclusion is a prominent issue that is not only affecting a large segment of its population but also hindering economic growth. To address this massive market and drive economic growth, Africa needs credible and tamperproof methods of generating credit reports, bank account statements, loan processing documents and reports, IDs, and trade documents.
The first step towards improving the quality of life for many Africans is to ensure that all citizens have access to banking services. This will enable them to start small businesses which are crucial for job creation and economic development in the continent.
Africa's Financial Sector is undergoing a tremendous change with technology adoption of tamper-proof documents
The development of Africa's financial sector is experiencing a tremendous change with technology adoption. Tamper-proof documents are one such area, where technology plays a major part. The poor perception of the continent by ratings agencies due to elevated levels of frauds and poor governance, has led to increased demand for secure systems that can be trusted by businesses and citizens alike.
To address these issues, governments have introduced several initiatives aimed at improving transparency and accountability within the public sector while promoting good corporate governance to attract foreign direct investment (FDI). These include the African Peer Review Mechanism (APRM), which encourages African countries to conduct self-assessments using international standards on good governance and human rights; independent central banks; improving public procurement processes; introducing whistle-blower systems; fighting tax evasion/tax avoidance schemes by multinational corporations; strengthening anti-money laundering/combating financing terrorism frameworks as well as addressing corruption related risks through improved enforcement capabilities.
In fact, our co-founder Vinod Vasnani, was a panel speaker at the Stanchart Fintech Festival, on 27 October 2022. He spoke on Integrating Sustainability and Financial Inclusion to Drive Economic Growth
Options like Blockchain are not ideal for scale and reach - require complex implementations and are economically unviable
One of the more popular options for banking and financial industry in recent times, is using blockchain technology, or "distributed ledger" technology (DLT). The use of DLT has been gaining traction in recent years in the developed world as more people have become aware of its potential to disrupt industries and improve efficiency. While it may be a great fit in many cases, it is not a sustainable option for deployment in developing countries due to its prohibitive cost and complexity.
Secure QR Code Technology, Integrates Sustainability on a Common Platform for Financial Institutions, Governments and Citizens
Secure QR code is the digitally signed, encrypted, hyper-secure version of the ubiquitous QR Code. Which means Secure QR code can be read using a standard device such as a phone camera, scanner, or web cam. The secure QR code contains non-tamperable encoded information that can be text, images, PDF version of a document, ID card or a certificate or a signed PDF.
Secure QR Codes work with any capable mobile phone equipped with a camera and internet connection - in some cases even without an internet connection! It can be used in both physical and electronic documents like cheques, trade licences, account statements, ID cards, credit score. This opens many opportunities for banks and governments because they can now issue non-tamperable documents to their customers' phones through digital or physical means!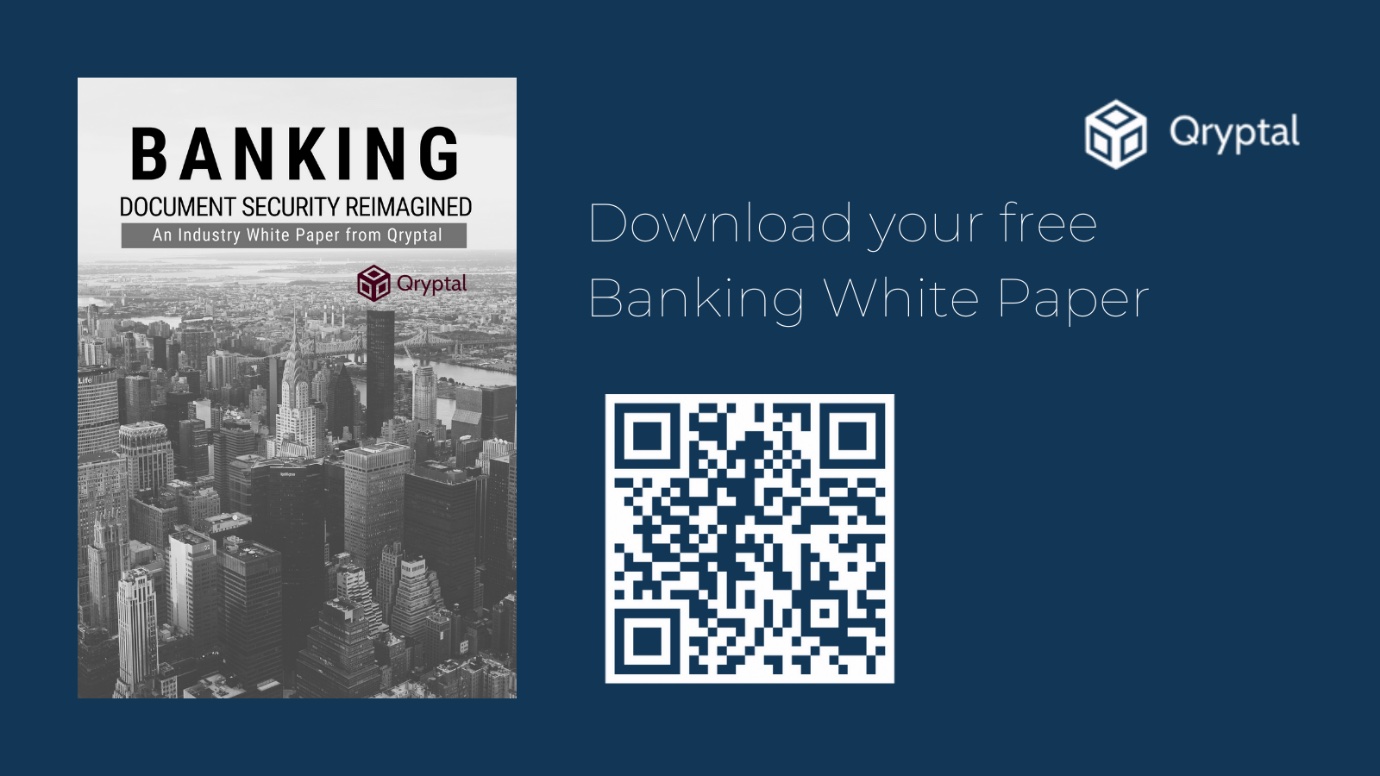 Qryptal is a globally proven solution provider with advanced document security technology suitable for countries in Africa by integrating scale and sustainability in implementation
Qryptal is a globally proven solution provider with advanced document security technology which can be deployed very easily at scale. We use the latest, technically & commercially proven technologies to solve problems that affect people's lives. Specifically, our solutions & technology can help to improve financial inclusion, healthcare services and payments across Africa.
Qryptal enables secure banking and financial transactions with QR codes. It is a viable alternative to blockchain technology. It provides security and privacy for industries such as banking, insurance, healthcare, government amongst others.
Conclusion
To build a sustainable solution for all Africans, we need to work together and collaborate with the Financial Services Ecosystem, Government Departments and Technology Providers. The Qryptal team is committed to collaborating with financial institutions and regulators to realize the full potential of our technology. We look forward to working with others who share this vision and can help us get there faster!
---
You may want to
---
---