... and here's what you can do to prevent that
Payslips serve as documentary proof for various applications and processes – from an application for a credit card, revision of limits, loan processing, visa application, or even opening a brokerage account. Hence the integrity of payslips is very important. The new craze of cryptocurrencies is fuelling a recent trend where more payslip frauds are being detected.
Payslip frauds have been happening across the world earlier too. The below links highlight the scale and magnitude of payslip scams. As mentioned above, since a payslip is an essential input for such application processing, there is a huge incentive to manipulate the salary details on the payslip to increase the operating limits on a loan or credit card.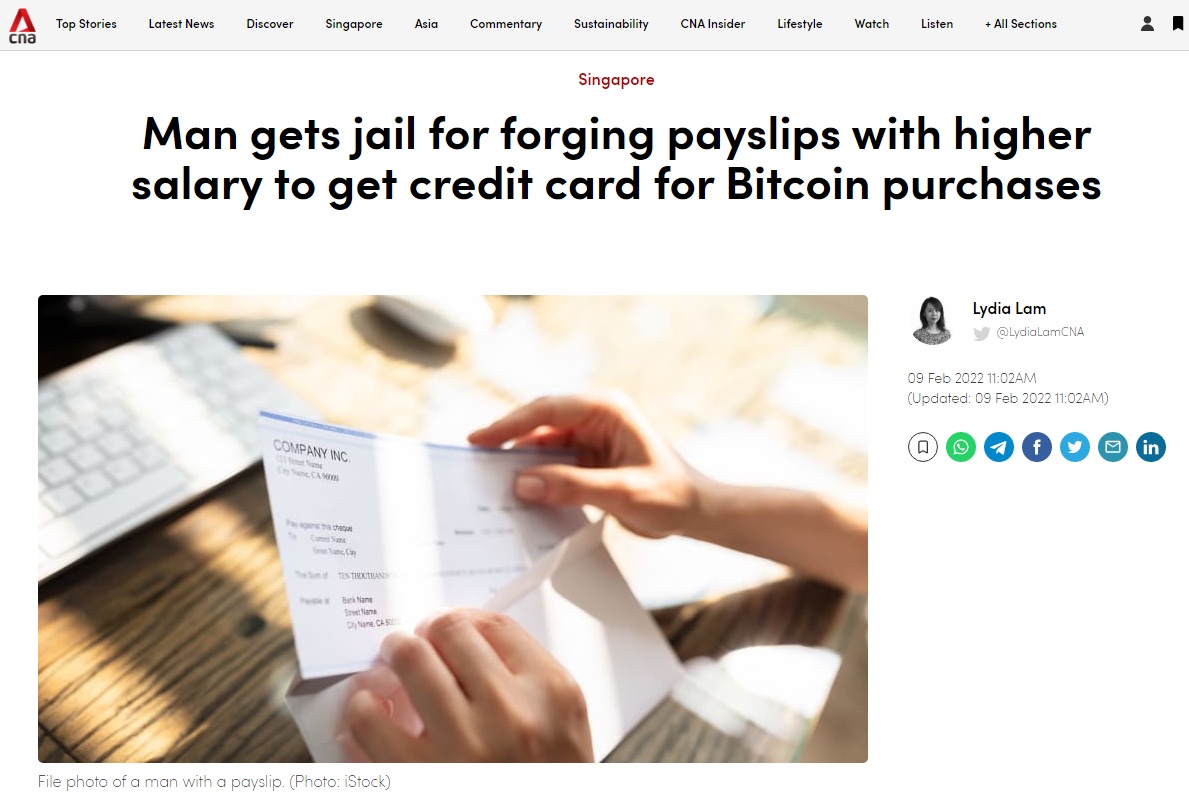 In Singapore recently, a man was jailed for forging payslips to get credit cards for Bitcoin purchases. In this case, wanting to get a credit card with a higher limit so he could buy bitcoin, a man forged his payslips. He made it seem like he received a higher salary, tricking the bank into issuing him such a credit card.
How widespread is this problem?
Similar cases have been observed worldwide in both developing and developed countries. For example, a similar incident occurred in August 2020, where a man forged a payslip to get credit card with a higher limit to purchase bitcoin. From Australia to Zambia, we regularly come across examples of pay-slips forgery.
While it can be broadly classified as the functional responsibility of HR & Payroll, the problem is widespread across industries, causing a headache to financial systems and economies. So is there a way to address this problem? Yes, there is a relatively straightforward mechanism to tackle this problem with document protection systems like Secure QR. And no, Blockchain is not what we recommend. It is like using a sledge hammer for swatting a fly.
What is the solution?
A Secure QR code can be introduced In your payroll systems, where payslips are generated, with an embedded Secure QR code. The solution will have the following main components.
A payroll system generates secure payslips which have a secure, tamper proof QR code capturing the critical information inside it. Each of these Secure QRs will be digitally signed by the private key of the issuer. Since only an authorized issuer can generate such a payslip, it prevents unauthorized manipulation or tampering.

The easy third-party validation mechanism helps in confirming the authentic and trustworthy information.

Payslip data is confidential, and the solution ensures that employees privacy is preserved.

This is a solution which does not rely on centralised databases for verification, preventing hackers and ransomware attacks.

Secure QR code is cost-effective, scalable and quick to deploy.
The Secure QR code system is a technology-driven method for reducing fraud based on forged or fake payslips. A Secure QR code solution is configured to produce the payslip with critical information regarding an employee. A unique QR code is embedded onto the payslip and is digitally signed with a private key. The tamper proof payslip is thus delivered to the employee.
Enter Qryptal's Intelligent & Secure QR Code Embedded Payslips - The Innovation That Arrests Payslip Fraud
Qryptal Secure QR Code document generation system ensures that all such payslips are system generated centrally – both for physical and digital [phygital] formats. The salary information is captured in a Qryptal Secure QR code before it gets printed either physically or electronically. In addition, the Secure QR code will also have the digital signature of the issuing organization so that unauthorized modifications can be identified and stopped.
Different stakeholders to whom it is presented (other employers, banks, embassies, visa processing service providers, etc.) can easily validate the information. Then, the verified contents can be used with total confidence for any required purpose.
A payslip sample with a QR code encapsulating the details is shown here. All the elements inside it are visible for verification on scanning the code.
A Secure QR code generation and verification system for payslips offer significant benefits.
Secure QR payslips can be either printed or electroni

Only the issuing organization can generate such payslips and they cannot be faked or tampered in an unauthorised manner

Allows verification of such documents by third parties on a self-service basis

Strengthens personal data protection. Information is accessed through the QR code and using an official app only or through other validation mechanisms

Information is stored inside the QR code and is validated and checked only on a need-to-know basis. Therefore, the privacy of all the parties concerned is maintained

No database dependency and no need to maintain expensive infrastructure
When you think Payslip Frauds, remember there is a simple solution - "Secure QR Codes for payroll."
---
You may also like -
---
---