Generate scannable QR Code for an entire URL list in one go
QR Codes need not be boring. This week, we are sharing something fun that we came across. This is to do with Google Sheets and generating QR Codes auto-magically.
With everyone having a smartphone, scanning a QR code image to drive traffic to your website seems as simple as ABC. So here is how you can do it in google sheets.
In one of the columns, you may have all the URLs; in the next column where you want the URL to be generated, copy & paste the formula below. Then, drag the box to all the cells that have the URL.
•Change "A1" to your cell reference in your URL
•💥 Free QR code
=IMAGE("https://chart.googleapis.com/chart?chs=200x200&cht=qr&chl="&A1&"")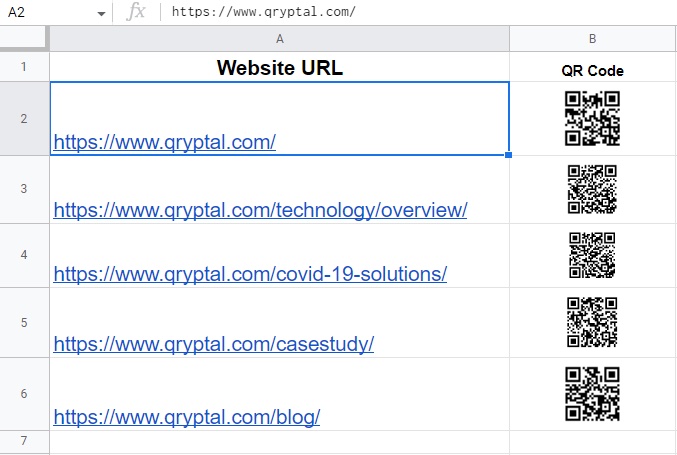 Having said that and on a serious note - your QR strategy for document security cannot be an afterthought.
In our experience of interacting with global organizations, we see that many decision-makers view QR codes as simple images that are a shortcut for URLs. Such organizations do not have a clearly articulated strategy for these Quick Response codes, especially for document security. Instead, they look at the easiest top search result for QR code generation and printing and believe that they have a strategy for QR codes. Nothing can be farther from the truth than this.
Secure QR codes are central to document security for any organization – government or private. For example, the QR code may be on an ID card, invoice, purchase order, or insurance policy requiring a third-party validation who is more often, not directly connected with the issuing organization. Yet, the issuer must ensure the document's authenticity, which can be easily verified. Please get in touch with us at Qryptal for a more detailed discussion on Secure QR codes for your use case.
---
You may also like
---
---