...And what can authorities do to counter this
As early as March 2020, we wrote a blog post - How To Make Covid-19 Test Reports Easily Verifiable. In addition, over the last 18 months, we have written several articles such as Integrating document security into COVID Test Reports.
So, when Euronews recently shared that Fake COVID-19 certificates sales rise as health passes become mandatory, it only highlighted what we had written about for Kumbh and elsewhere since the beginning of last year.
With COVID-19 certificates becoming mandatory worldwide, some people are turning to social media platforms like Telegram to buy fake health passes at a cost of around €100. Euronews highlighted that in just a few months of launching COVID certificates as a health pass, accounts that started selling photoshopped certificates delivered via email have grown in number in Europe and around the world, triggering an increase in cyber-crime.
The new breed of scammers is agile and tech-savvy. They collect all the details of the 'buyer' and print them on the certificate. Then, the fake/photoshopped certificate is sold with appropriate information. It is alarming to note that the demand for these channels has increased since the beginning of the pandemic.
Even though countries such as Italy have introduced smartphone apps to verify the certificate's authenticity, this alone might not be enough. While the app allows verifiers to compare the information contained in that QR code with the national database containing data on vaccinated people, border control authorities lack an international database of vaccinated people worldwide: something that has taken the fight against COVID-19 to a different level and scale. Also accessing databases means increasing the risk of someone hacking into them and misusing or compromising the privacy of personal health information.
Euro News
As one would have expected, COVID-19 vaccination certificates and reports have become essential documents as governments, public health departments, & transport systems formulate policies for facilitating travel, managing healthcare systems and returning to work, among the many other use cases.
How can we have a systemic and synchronised global response to covid certificate fraud?
At Qryptal, we are helping fight against Covid-19 certificate fraud in a straightforward, effective, and efficient manner, already with a few use cases. We have solutions for both Covid test reports as well as Covid Vaccination Certificates. Our software is fully compliant with generation of EU DCC QR Codes for Vaccination, Recovery and Test certificates. These solutions are meant for national authorities.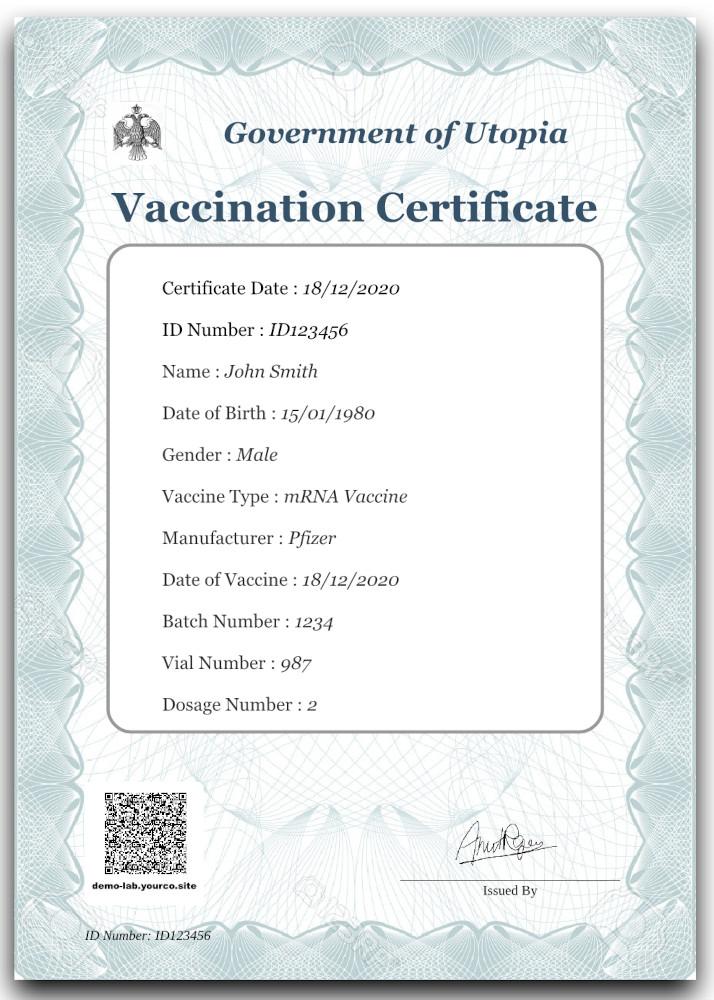 Sample Vaccine Certificate with Secure QR Code
Qryptal's EU Digital Covid Certificate Solutions
What are the main benefits of using the Qryptal solution for such applications ?
Top 10 reasons
Automated validation: Qryptal QR supports both API based and PKI based automated offline validation enabling easy integration in workflows like online check-ins.

EU Digital Covid Certificates: Qryptal software supports the fully compliant generation of EU DCC QR Codes for Vaccination, Recovery and Test certificates. These solutions are meant for national authorities. Please note that DCC is the new name for EU Digital Green Certificates (DGC). Learn More

Easy Integration with existing document production systems: Our solutions have been designed to integrate seamlessly with existing document production systems and workflows so that there is zero to minimal change required for adoption.

Offline validation: Offers the capability to validate these certificates offline. This is the key to providing trouble-free high volume decentralised validation at all borders - air-gapped immigration/border control, airline check-in counters, and any venue wanting to ensure safety for all.

Physical-Digital: The solution works for electronic /digital certificates and paper-based certificates to ensure people of all abilities can use the system.

Privacy: Decentralized validation based on open standards enables true privacy for all stakeholders: certificate holder, issuer, and verifier.

Proven solution, in commercial use since 2015: Secure QR is a proven method used by customers and authorities worldwide across industries and verticals for various use cases for several years now. Governments and health authorities are already deploying such Secure QR code-based solutions. It makes the Covid vaccination certificates and test reports secure and makes them easily verifiable across borders.

Public validation: Empowering the public to quickly validate these certificates can be a critical enabler to ensure a safe opening at scale.

Scores over Blockchain: Secure QR code scores over Blockchain and offers advanced levels of security in a simple, efficient manner at a fraction of complexity and costs. Since interoperability is the key, it follows a standard PKI-based approach with established cryptography for security

Streamlined Architecture: We have purposely limited the scope of our solution to a micro service to enable quick and easy deployment at scale.
---
You may also be interested in -
---
---