A simple, secure QR code solution could have prevented it.
Class 5 dropout worked as a doctor at 16 hospitals. Finally, it was caught in a freak case.
This case is straight out of a crime thriller. Imagine this - a fake doctor worked in not one or two but 16 hospitals and yet could not be caught till he was arrested on a completely different crime of assault on his wife, who complained. Then the entire beans were spilt.
Doctors and medical professionals hold a very responsible position in society and are accountable for saving thousands of lives each year. When this trust is shaken, it could have far-reaching implications for the community at large.
Here a 'doctor', a Class 5 dropout had worked in at least 16 private hospitals, conducted several medical camps and even volunteered with the local police for assisting migrant workers during the pandemic. But then this 'doctor' was just 23 years of age to have such an 'illustrious medical career' as he had claimed. When the law officers finally caught up with him they found that everything from his Class 10 marks memo, to provisional certificates and migration certificates from universities, were forged and fraudulently procured with the help of education consultancies, the police claimed.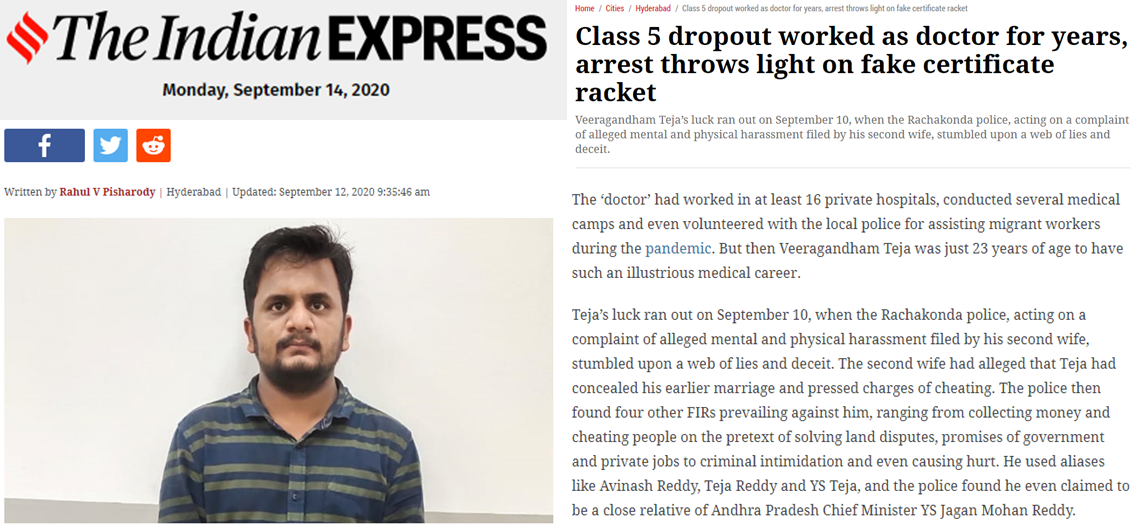 https://indianexpress.com/article/cities/hyderabad/hyderabad-fake-doctor-certificate-racket-veeragandham-teja-6592353/
What makes such frauds thrive in society, and what can be done about such scams?
The primary reason that such scams occur is because of the lack of easy verification methods to quickly evaluate and authenticate the education documents and certificates. In this case, it was a multi-level failure. It was not a single medical degree that was forged. The entire sequence of documents from a Class 10 marks transcript, to provisional certificates to migration certificates from universities were all tampered.
Sixteen hospitals and none could even get a whiff of this should make us question how such a simple task of verification could be missed, and by all of them?
This is primarily because of the increasingly easy ways to forge/tamper genuine-looking official documents and the lack or absence of easy validation mechanisms to verify them. Colleges, universities and any document issuing body, usually would use features like holograms, special paper and embossing on the certificates to prevent tampering and ensure authenticity. However, these are not foolproof, but more importantly, once the certificates are issued, the process of verification is exceptionally cumbersome and often that leads to delayed or incomplete verifications.
A simple, secure QR code solution would have prevented this fraud.
A simple solution would be to use a secure QR code solution that could be embedded in the physical and the digital formats of the certificates. These certificates come with an embedded QR code that can be authenticated by a simple validator app provided by the university or a centralised accreditation body. That means any third-party that needs to authenticate the veracity of the certificate would only scan the digital or printed copy of the certificate on a simple mobile phone app (or even an easy web validation mechanism if they don't want to use the app). The verification is done immediately, and the authenticity is established. Such a mechanism is so easy and fast that it would seem uncommon not to have used it. Here is an example of easy validation of the degree certificate:
Are all QR Code solutions the same?
In our earlier posts Infographic: 6 Point guide to selecting the best QR Code Solution, we explained the six key steps to choosing the right QR code solution. A medical practitioner's certificate is often used over the decades. So it is essential to get the QR code security right and future proof so that the credentials can be validated instantly and people have trust in them. In our view, all QR code solutions are NOT the same. A right and secure QR code solution issued by a university or an accreditation body would have
Have advanced and high strength encryption plus digital signature technology (PKI) that makes the QR code tamper-proof and verifiable.
The solution that works seamlessly for both printed and electronic documents.
Easy to validate instantly on an ad-hoc basis
Able to verify by any patient/officer even offline without network connectivity.
Should have no access or dependency on any central database.
Affordable without significant additional upfront costs
This is what laboratories can do for maintaining the trustworthiness of their test results
We believe that a globally accepted and proven solution for trustworthy Covid 19 test and antibody reports which can be verified easily and on demand will benefit every country, the citizens and public health authorities alike when stepping up efforts to tackle and control the spread of disease.
COVID-19 test reports & Immunity Certificates are becoming a reality
Typically - soon after the lockdown is lifted, travellers, factory and essential workers, office staff etc are required to have COVID-19 certificates to carry on normal activities and sometimes even for rejoining the workforce. The people and business movement not just within but between countries also require a COVID-19 negative certificate.
Fake 'COVID-19 test certificates', spreading faster than the disease
This need for quick certificates has created the right conditions for unscrupulous elements to step in, and this is how the fake certificate syndicates thrive. These syndicates claim to "speed up" the queue and assure immediate certificates or even provide these at a much lower cost. They take advantage of this demand-supply gap. There are instances where they even resort to advertisements on social media for easier and better accessibility and less traceability. Once a potential customer makes contact, they either collect "real samples" or sometimes even bypass that (!!) and promise to deliver the certificate by email or by post - all for a fee. They prepare fake reports based on their own observations of the patients' symptoms or going by their declarations and urgency.
This is what laboratories can do for maintaining the trustworthiness of their test results
Making the COVID-19 reports, tamper-proof has become crucial, and this puts immense pressure on the genuine certificate issuers like authorised laboratories to ensure that there is credibility to the certificates that they issue. They must ensure that the certificates issued are secure, tamperproof and easily verifiable - either in physical or in electronic/digital formats.
The output report must be verifiable without compromising individual privacy and without the need for any database dependencies. Hundreds and thousands of certificates issued by labs need to be verified by third-party government and non-government agencies for various purposes. It could be travel, school admissions, immigration, entry into restricted areas or designated areas and so on.
A simple, proven and efficient solution to your problems
Secure QR code is a highly sophisticated technology that combines military-grade cryptography with a PKI mechanism to allow simple day to day documents to have security and instant verification using ubiquitous QR code. PKI based Secure QR code enabled certificates allow de-centralised validation, without complicated and expensive technologies like hyperledger or blockchain and artificial intelligence. You can use a dedicated smartphone app to validate such a document or even use web validation mechanisms in all of which the verifier would just need to scan the QR code and check the output to assure themselves that it comes from an authorised issuer. This entire system uses a standard public key-private key combination with appropriate levels of security and encryption.
---
You may also like
---
---