Are we that helpless, or can we do something?
Cyprus to Bangladesh, fake COVID19 certificates is now a global phenomenon.
Are we helpless, or can we do something?
A couple of months ago, we wrote - Are fake 'COVID-19 test certificates', spreading faster than the pandemic ?. A few months on, things do not seem to be getting any better. It is heading south. This time in Cyprus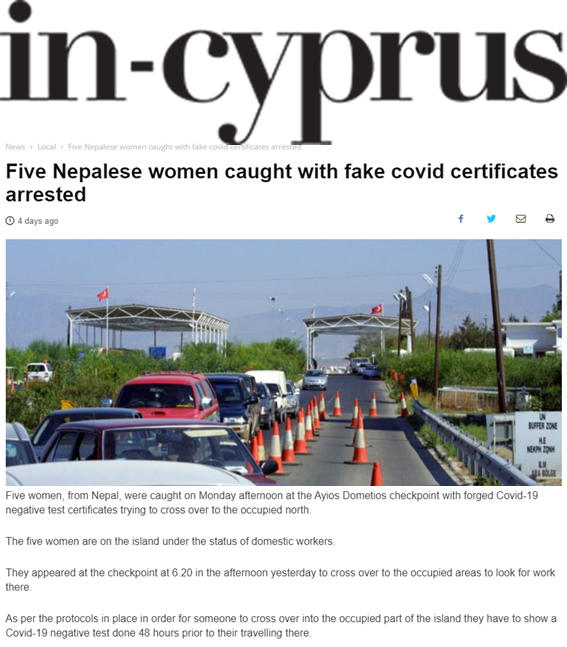 Last week, five women, from Nepal, with the 'status of domestic workers', were caught at Cyprus's Ayios Dometios checkpoint with forged Covid-19 negative test certificates trying to cross over into the occupied part of the island. It was only the tip of the iceberg.
As per the protocols set-up in many countries at cross borders, travellers have to show a proof of Covid-19 negative test done 48 hours before their travelling to that destination. Increasingly, we see a growing number of cases, where such a certificate is presented, but the authenticity is under question. Today, there is no easy means of checking authenticity or validation at a checkpoint. What this means is that the spread of the disease would just continue to blow into epidemic proportions and worse still, these false negatives would lead to derailing to contact tracing mechanisms.
With a staggering 30 million cases and almost 1,000,000 deaths and counting, the spread of coronavirus does not seem to show any signs of abating.
At Qryptal, we have been closely observing the situation across the globe, and this is what we think what health authorities should do for COVID-19 test reports. QR code-based solutions can make digital vaccine certificates or 'immunity passports' tamper-proof. We have helped Kenya with a solution that can help them move essential goods during COVID-19.
It is now mandatory for travellers to carry COVID-19 negative certificates for travelling across borders.
Making the COVID reports tamper-proof
'Secure QR code' is a fool-proof way for health authorities to issue certificates that are secure, tamperproof and easily verifiable - either in physical or in electronic/digital formats.
With a secure QR code, the authorities can extend the validity of an issued certificate.
Such a certificate can be cancelled if it is subsequently found that the person may have later turned COVID +ve
There is also a nifty mechanism to expire the certificate remotely.
The possibilities are endless. To have a globally verifiable document without compromising on individual privacy and without the need for any database dependencies is not a utopian dream any more.
A Secure QR code (not the standard unsecured QR) enabled certificate enabling de-centralised validation should make this possible.
Secure QR (not standard and traditional QR) is a technology that combines military-grade cryptography with a PKI mechanism to allow simple day-day documents to have security and verification using ubiquitous QR code. Unlike traditional QR, 'secure QR code' has an inbuilt fail-safe mechanism. Such QR codes are generated only by authorised entities and laboratories using a private key to sign the QR digitally. This code encapsulates the critical information that needs to be communicated and verified and can be generated in a small size. This secure QR code is tamper-proof and can be easily verified by the corresponding public key.
A simple smartphone app can validate such a document or even use web validation mechanisms in all of which the verifier would just need to scan the QR code and check the output.
This entire system uses a standard public key-private key mechanism with appropriate levels of security and encryption. Secure QR code provides an easy and foolproof way to create and verify authentic health and immunity certificates.
This is how it works - Simple three steps.
---
You may also like
---
---