COVID-19 negative certificates that can be checked at the point of boarding or immigration
How a small testing lab in a sleepy town blacklisted an entire country of 1.3 billion people
By the time a private lab in Malappuram's Valanchery was busted for allegedly issuing fake COVID-19 certificates to various travellers flying to the Middle East from India, the damage to the country had already been done. This is a blow to India's international standing as a nation.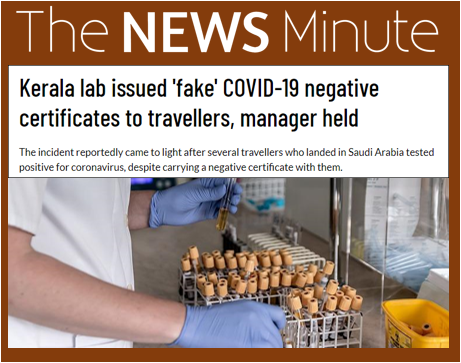 https://www.thenewsminute.com/article/kerala-lab-issued-fake-covid-19-negative-certificates-travellers-manager-held-134193
Saudi Arabia banned all flights from and to India for14 days.

South Korea imposed restrictions on specific categories of Indian visa-holders.

Hong Kong had earlier banned Air India flights until the end of August.
The arrest of the manager of the laboratory, which had ICMR approval to conduct COVID-19 tests, was just the tip of the iceberg.
The lab had collected about $60,000 (₹45Lakhs) for testing samples and allegedly issued fake COVID-19 negative certificates to 2000 people without even sending their samples to the central lab for testing. According to the law enforcement authorities, the laboratory faked the letterhead to issue those certificates. This crackdown occurred only after several travellers that landed in Saudi Arabia tested positive for coronavirus, despite carrying a negative certificate with them.
A pre-flight COVID-19 negative test result certificate is mandatory for all passengers coming from many countries. The world is becoming increasingly guarded with countries imposing restrictions to reduce the spread of COVID-19.
When incidents such as these occur, the burden of verification falls on the already stretched enforcement authorities and official agencies. While COVID-19 negative certificates have become a norm, the methodology and standardisation are not. This global problem without adequate checks complicates ease of travel and imposes onerous requirements on all concerned - the passengers, airlines, authorities etc.
COVID-19 certificates, unlike other documents, have a short shelf life and yet if tampered can have a considerable impact. Certificates issued in one location are verified elsewhere and often in a different country. Hence, there is a need for a method with high security, coupled with easy and decentralised verification.
COVID-19 negative certificates that can be checked at the point of boarding or immigration. A Secure QR code-based COVID-19 certificate can prove as a boon for the travel industry.
Authorised labs issue the COVID-19 certificates embedded with Secure QR code. These certificates can be in an electronic or a physical format. These secure codes are digitally signed by the private key of the issuing laboratory to make sure that they can only be generated by authorised entities and are tamper-proof. No one else can then create or modify them on behalf of the issuer. The QR code on the certificate is scanned by an App or through a web validation mechanism which carries the corresponding public key to validate the information and present it to the verifier.
Sample Antibody test report with Secure QR code
Secure QR code solutions typically use smartphone QR code scanning apps. Most users are familiar with such a technology and can thus take advantage of a high level of security embedded into the QR code. The issuing laboratory can generate tamper-proof secure QR Codes which can be printed physically on a paper or generated as an e-certificate as the case may be. In today's mobile-friendly world, these secure QR codes can also be carried and stored on phones as an image or as PDF or similar.
This mechanism of Secure QR code works well for verification across locations without compromising the security of the certificate. This is a simple, quick and actionable solution with minimal set-up requirements to prevent scams like what we saw above.
---
You may also like
---
---