3762 seafarers jettisoned !
A tsunami in the high seas, with 3,762 seafarers jettisoned for this crime
When India's Directorate General of Shipping served show-cause notices to over 3,762 seafarers, for fake qualification certificates, it is bound to make headlines.
The entire country's reputation as a supplier of quality seafarers to the global shipping industry has taken a massive hit with the country's maritime administration issuing notices to seafarers who allegedly secured qualification certificates without attending classes. It was the biggest crackdown yet on a naval training racket, but it's likely that it may not be the last. This racket may is expected to be global and not just confined to India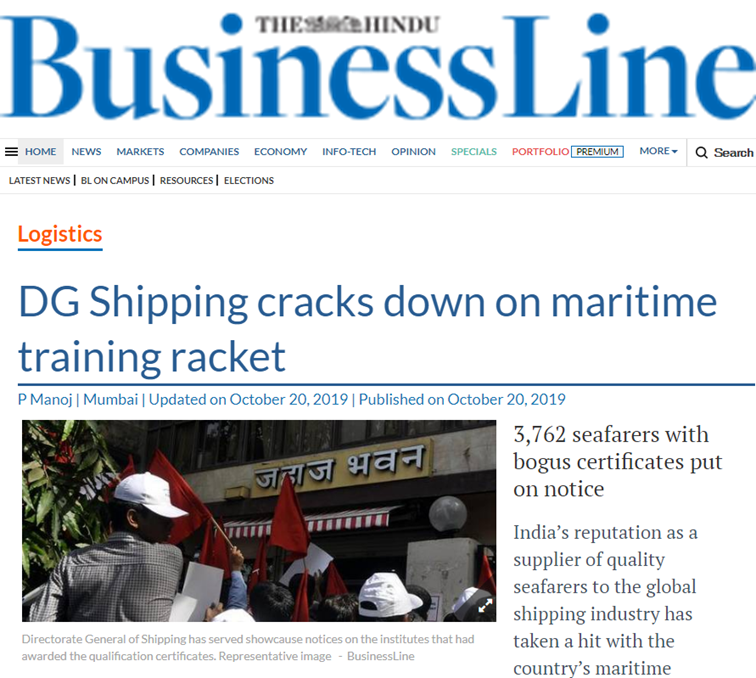 https://www.thehindubusinessline.com/economy/logistics/dg-shipping-cracks-down-on-maritime-training-racket/article29749701.ece
What makes this case unique is the ease with which seafarers have access to certificates that they do not qualify for. The problem seems to be deep-rooted. The official said. "We are not even sparing the faculty this time. We are in the process of issuing show-cause notices to the faculty members of the institutes also". But it is like locking the cage after the pigeons have flown away.
Such frauds are prevalent mostly in countries where there is an absence of a robust mechanism for the institutions and seafarers to have authenticated certificates of training. This can be addressed by having a document security solution that helps ensure the authenticity of each document and prevents tampering or forgery or even outright fakes being produced. Such frauds can happen across industries, not just shipping and can have disastrous consequences at times. For example, tampered certificates that prove the worthiness of an otherwise faulty machine can endanger people and may cause a significant loss of life.
How can the shipping industry prevent such occurrences in the future ?
Any document security solution consists of two parts - (1) creating a document with relevant information that is secure and tamperproof (2) and then ensuring such documents can be easily verified by a third party.
For training institutes catering to seafarers, this would mean having a system in place which would provide details of the candidates trained with the specific qualifications and marks or grades in the certificates issued. Some other important details of the training modules may also be specified in the certificates. To prevent any kind of manipulation of this information by unauthorized persons, we suggest employing a mechanism (such as secure QR codes) which can capture all these key details for an individual (maybe including a photograph of the person) and it can be made an integral part of the certificate/document at the time of generation itself.
The next step is to provide the validating entities (which could be the ship operator, or immigration and customs officials or any other third party) with an easy method to check the authenticity.
One way to achieve this is by using Qryptal's secure QR codes as briefly explained below
How is it done ?
Add a Secure QR Code with details such as seafarer name, date of birth, gender, course attended, grade, inside the QR code. These high security, tamperproof codes, can only be created by the issuing institution or maybe even the maritime authority in a country.

The QR code is machine-readable, and the information inside can be compared with the information on the document using a mobile app which can also verify that the document has indeed been issued by the specific institution. Personal information can also be compared with identification IDs like passports to highlight any tampering.

Each QR code is unique for every certificate issued to a seafarer. The technology can be easily integrated with the existing infrastructure and can handle the necessary processing volumes.

It works for both physical and electronic documents.
Qryptal's Secure QR codes are privacy-friendly with no dependency on databases and no sharing of customer sensitive information.
---
You may also like
---
---