Add steroids to your Marketing..
What you did not know about QR code powered marketing coupons
A special use case explaining how you can add steroids to marketing
One of the earliest uses of QR Codes was in marketing campaigns. Users are directed to a specific web page to fill out a form or do some other activity on scanning the QR code. Today, QR code is used across many marketing campaigns for products across categories.
QR code is an essential tool for a marketing campaign. The standard QR Code benefits are -
simple, low cost , unlike RFID or smart tags.

Can capture & track more information, including the discount type, validity and the non-transferability of the buyer.

can store a lot more information than a conventional horizontal barcode.

are easy to read with mobile phones and don't require the bulky hand-held scanners

can scan at a wide-angle.
One nifty enhancement can enhance the above benefits by 100x. Secure QR code coupons help to manage, maintain and track marketing effectively and efficiently
A use case in classic retail marketing
Imagine the use-case of a marketing coupon as it transforms from a discount voucher, to purchase receipt, to invoice to guarantee card and service record.

Over time, the buyer journey does change, and one of the key ideas would be to track the journey of the customer on the same QR code. Not just for the seller but also for the buyer.

Think of this like a bank passbook/ account statement where contents are continuously updated with every interaction.
How can you change information that is already printed on a marketing QR code? Here's how…
Secure Information is embedded into a QR code in stage 1, and this contains the marketing before undergoing any transformation. The same is printed on the marketing tag on the product. The verifier scans the QR code and gets the specific information that is intended to be read by the recipient.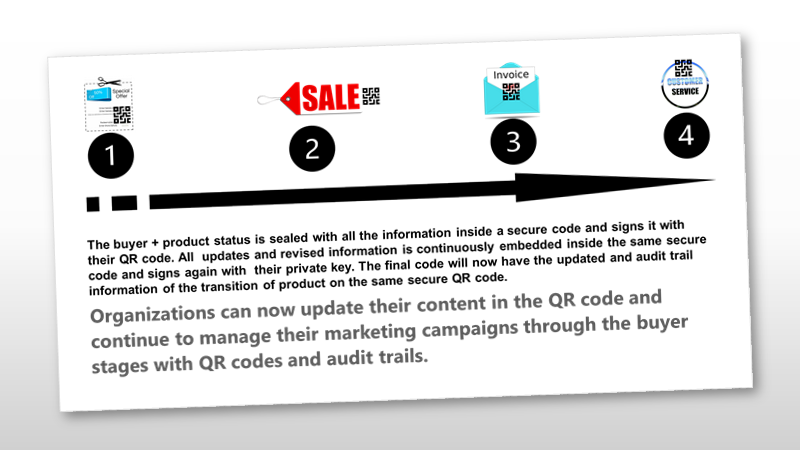 updation of information at different stages of marketing cycle using Secure QR
The status or content of the information has since changed, to the sale of an entirely different product or a modified product. As the journey continues, the invoice continues to carry the same QR code and even the authenticity card or even subsequent service certificates.

In the final stage, the product through the life cycle of the service will continue to maintain the same QR code with updated information along with audit trails on the transformation of the product at each stage.
All such new information and transformations on the product are updated at the back end into the same QR code that is already issued and is printed. When the verifier at each point scans the QR code, they observe the changed status and get the updated information, that is intended to be read by the recipient.
---
Other articles that you may also like
---
---