...... and this is how you can stop it
Here's the largest contributor to fraud in India
When securitas.in did research on identity fraud in India, it was not without a reason. The global problem of identity theft, the crime of the new millennium has reached India. Identity theft is the stealing and unauthorised use of someone's personal information primarily for financial or monetary gain. According to that report, on a survey conducted a few years ago….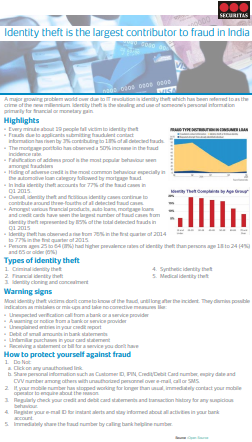 Survey of identity theft
https://www.securitas.in/globalassets/india/files/about-us/news—related-documents/identity-theft-is-the-largest-contributor-to-fraud-in-india.pdf
---
ID theft is the largest contributor to fraud in India
Identity theft accounted for 77% of the fraud cases in India in Q1 2015

85% of the total detected frauds in financial products, auto loans, mortgage loans and credit cards were because of ID theft

19 people fall victim to identity theft, every minute

18% of all detected frauds were due to falsification of contact information and this is the most popular category seen in ID theft
The numbers are definitely unflattering. But there is a solution
What is the solution, and how can anyone quickly verify the ID credentials?
ID cards today can easily be duplicated, and these sophisticated scamsters create fake identities easily. One way to ensure that one can verify and trust the ID cards and the officials carrying them, is to have a secure QR code printed on the ID. This will help the citizens to quickly verify/authenticate the ID cardholder and their information before moving to the next step in processing or completing the transaction.
A Secure QR Code Solution?
A secure QR code has some advantages as below
1. proven technology
2. Simple, efficient, and affordable
3. Secure QR codes allow key information to be validated very easily
4.They follow standard PKI (private key/public key) protocol
5.Information is made highly secure and tamper-proof
How does the solution work:
The issuing entity creates a unique, digitally signed QR code for each ID that captures details like name, designation, photograph, address etc. This secure QR code is then placed on the ID card while issuing it in either physical or electronic form.
To validate one needs to simply scan the code with a validator app (this capability can be made a part of an official government issued and approved app) on their smartphone when presented with such an ID card with a secure QR code. The app carries the corresponding public key and can thus verify the digital signatures and decrypt and present authentic information instantly.
Using such a simple secure QR code solution, not just the private sector but even government departments across the world can create secure tamper-proof IDs for their staff and extension workers. Even additional features like allowing remote revocation or updation of the cards, their validity period and such can be controlled through the QR code.
In fact, the organization can even activate location tracking so that each time the genuine card is scanned, the system can keep track of the user location and can thus provide specific data which aids the analysis of post-event investigations.
Secure QR code for ID cards
This is a schematic of how such a Secure ID card can be produced. Qryptal's technology is being used for this and other use cases to reduce friction and make the world more trustworthy.
---
You may also like
---
---