Travelling during Covid-19
In a recent real-life article - Travelling during Covid: 'I was nervous using a fake Covid-19 test certificate', the BBC World journalist has shared how 24-year-old Louise* travelled to Ghana in October with a fake negative Covid-19 test certificate.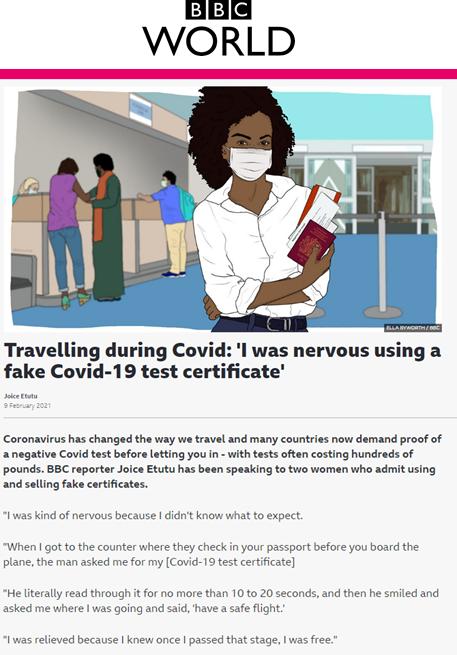 BBC news story
COVID-19 negative documentation is required in many countries before departure/on arrival to prove that you don't have the virus and are fit to fly. These tests can often cost a couple of hundred pounds. Moreover, the traveller also fears the test result's uncertainty, amplified, by the disease's asymptomatic nature. Then there is the logistical hassle of obtaining these certificates in a specified time for the travel.
What this BBC reporter unearthed was a story of two women who admitted to using and selling fake certificates, which was the tip of the iceberg. This is not limited to Ghana or the UK, but is a global phenomenon.
This is what happens today
The airline official at the ticket/immigration counter where they check your passport and other papers before you board the plane, usually asks for a Covid-19 negative test certificate. They have less than 10 to 20 seconds, to verify the ticket, passport & the other documents. Now they have a COVID-19 certificate to check as well.
With air travel opening up, and people again moving around, there is a double whammy - on one side the airline officials have less time (and fool-proof mechanisms) to check the certificates' authenticity. On the other side, the increased occupancy in aeroplanes' closed confines means a significantly increased chance of infection being passed to other passengers and dispersed into newer countries if the checks are not done correctly.
A simple modus operandi that drives fake certificates
As Louise says, and thousands of others know, the fraudsters get a 'structure' from a real certificate and use software like 'photoshop' to alter the name and other details.
Agreed that buying or even attempting to buy a forged certificate is a crime in the UK and almost all countries, yet the risk of being caught with forged certificates during travel is minimal. Lack of standardisation of certificates or even required hardware (like a passport or counterfeit currency machine authenticator) makes it difficult for authorities to validate the credentials quickly.
The UK government and many other governments require you to prove your negative test with a printed document, an email or a text message. The proof has to include your personal details, the date the test was done, and the test provider's name and contact details. Currently, it's the responsibility of airlines to check that passengers have a negative test result. With hundreds of passengers in the queue and many other tasks, it is practically impossible to expect the person at the check-in counter to attempt complicated checks.
Fake covid tests ELLABY WORTHH / BBC - https://ichef.bbci.co.uk/images/ic/1056xn/p0965zxd.jpg
That is why there are those like Jessica* who sell fake Covid-19 certificates to people who travel abroad. They even advertise and sell these services on social media.
International Air Transport Association (IATA) toying with ideas
The International Air Transport Association (IATA), the trade association for the world's airlines, is looking at a possible solution for sharing Covid results and spotting fake Covid Certificates. One of the ideas that IATA is looking at is the "IATA travel pass app". The passenger creates a profile based on their passport details. When the passenger gets their test results, the laboratories can send them to the passenger as a "verifiable credential," meaning the passenger can't alter or change the test results. Those results are linked to their identity.
Our experience with document security shows that integrating hundreds of thousands of labs into an IATA system may take months if not more. Moreover, our research shows that the world still needs 'paper' based certificates for the most part. We observed that a digital passport is not a reality yet, in most countries despite decades of push. We suggest a simpler solution, that can be adopted across the world, and yet achieve the same purpose.
What should a REAL solution look like?
IATA should use the simple, secure QR code solution. A secure QR code solution uses PKI based QR code enabled passes allowing de-centralised validation. The sophisticated technology uses military-grade cryptography and allows quick, efficient and effective verification with the now ubiquitous QR code.
Unlike traditional QR, 'secure QR code' has an inbuilt fail-safe mechanism. Only authorised issuers can generate it. The QR code encapsulates the critical information that needs to be communicated and verified and is developed in a small size. This secure QR code is tamper-proof. It is digitally signed by the issuer's private key and can be easily verified by the corresponding public key.
A simple smartphone app or a mobile/laptop camera to scan this QR code on the document can validate the information whether its in paper or digital format. The verification takes a few seconds.
In advanced implementations, such a solution can be extended to updating and revoking the QR code. The given QR code-based digital certificate is updated by the issuing authorities to extend the validity or can be revoked to cancel/expire the certificate remotely. This makes it simpler to control the information.
Secure QR code provides an easy and foolproof way to create and verify Authentic Certificates. The image below shows how this can be done.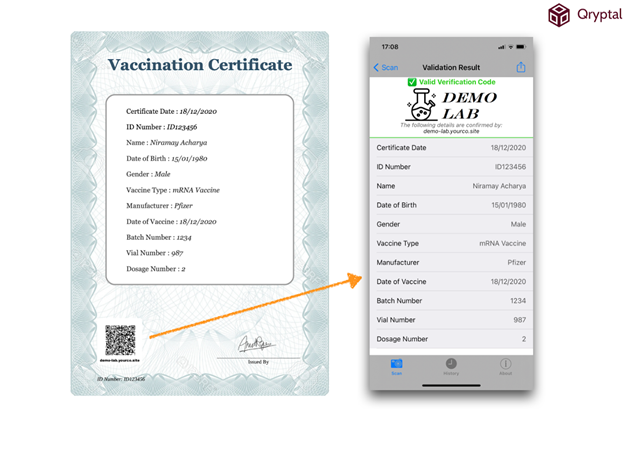 Sample Covid-19 Certificate with Secure QR Code
*BBC has changed the names like Jessica and Louise.
---
You may also like to read -
---
---