....How are Universities adapting in the post-Corona world
Why are physical degree certificates and scrolls passé? Read on -
#COVID19 has changed the way our Universities issue degrees and hold convocations
In our previous blog post, we had touched upon the topic of security in electronic documents. In this post, we are specifically going to look at how colleges and universities are adapting to the post-COVID-19 world in terms of their documents.
For most students, the graduation ceremony, wearing the convocation gown, and receiving the scroll is one of the most memorable moments of their lives. COVID-19 is snatching away that beautiful moment for millions of students all over the world. Universities are trying to recreate that magical moment with E-convocations and electronic degree certificates are the new norm.
Creating that moment is one part. The significant challenge for the college is to ensure that they deliver an electronic, secure, tamper-proof degree certificate that looks exactly similar to the physical original, and yet can be printed and reprinted any number of times on a scroll/ canvas , photocopied or emailed across the internet. Such a degree certificate must still retain its authenticity, validity and must yet be easily verifiable by any third party across the world. A tall ask? Enter secure, encrypted QR code-based certificate -
---
E-convocations are the new norm and universities are trying their best to make sure that moment remains magical and memorable
---
Colleges and universities world over have already moved to electronic mark sheets and transcripts even before COVID-19. But an electronic degree certificate altogether a different game and was rarely heard of even until a few months ago. As higher-ed colleges and universities venture into the little known space of e-convocation or an e-graduation, they are faced with the question - how can they ensure that their degree certificates are secure and tamperproof?
Graduation degree certificates hold a significant place in an individual's educational journey. On its flip side, it also has the potential to get tampered, forged as it acts as a passport to other sought after goals - employment, as a basis for post-graduate degree and so on. This was a key reason why in the past, universities avoided transition to the fully electronic mode and were issuing physically embossed graduation certificates.
Here is a sample image of the degree certificate from a university and the verified screenshot of the scanned secure QR code at the bottom of the certificate. This scan can be easily done by a third party from a physical or an electronic copy of the certificate.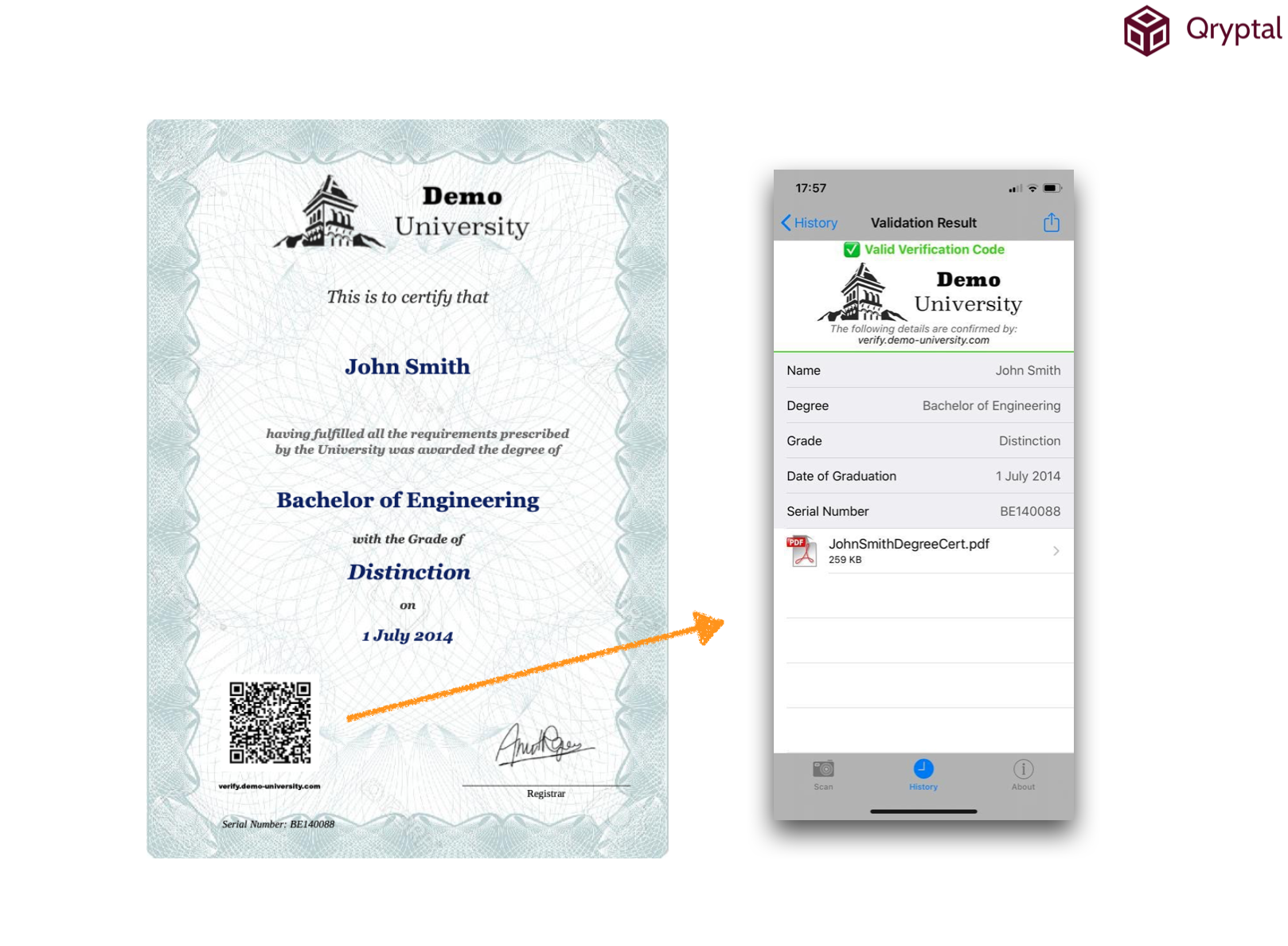 Example : Electronic Degree Certificate with Secure QR Code
8 reasons why QR code-based degree certificates/scrolls make perfect sense
Curbs degree duplication and forged degree certificates

Degree scrolls are available in both physical and electronic form

Easily verifiable by relevant third parties with a simple smartphone app or by visiting a specified university controlled web domain

Provides one-stop access to a student's academic documents through QR codes

Helps maintain privacy especially of the document holder and the verifier

Designed for all types of universities, budgets and tech infrastructure

Can include all core information including the name and place of the institution, the type of program, the mode of program delivery such as regular, part-time and so on

Records can directly be stored into a depository (e.g the National Academic Depository NAD), or equivalent, 24X7 online storehouse
A Qryptal secure QR code-based degree certificate or scroll offers these key 5 differentiators
An advanced digital signature technology (PKI) based on established cryptography that makes the QR code tamper-proof

Works seamlessly for both printed and electronic versions of the certificates

Easy to validate on an ad-hoc basis by anyone with a simple smartphone app (or by web validation), anywhere – ideally even offline (without network connectivity)

No access to the University's central database for validation and privacy for all concerned - the document holder, the verifier and the university

Affordable, easy setup and integration with current document generation systems in universities.
---
You may also like
---
---