Health Department at the crossroads
On COVID-19, the Health Department has an additional problem to tackle - The Fake Inspector
ID card fraud is not new in any part of the world. It manifests itself in various forms from time to time, and institutions keep trying many methods to address this. Even a humanitarian crisis is used as an opportunity and the current COVID-19 pandemic has provided exactly such a fertile ground for scamsters to build on the fear prevalent in the society and use fake ID cards or impersonate health workers to gain entry into homes with ulterior motives.
Here are three cases, two in the US and one in India. In all these cases, the health authorities are requesting citizens to be careful. Scams like these, just like the pandemic, do not have borders, and scamsters leave no opportunity untouched. Here is the news report from Alabama , where the Mobile County Health Department warns the public about imposters seeking entry as health inspectors.
#SFPD is receiving info about subjects going door to door claiming to be employees of the Centers for Disease Control or the #SF Department of Public Health. These subjects are apparently asking for entry into residences to conduct inspections or searches. pic.twitter.com/QW7LmEj6kR

— San Francisco Police (@SFPD) March 27, 2020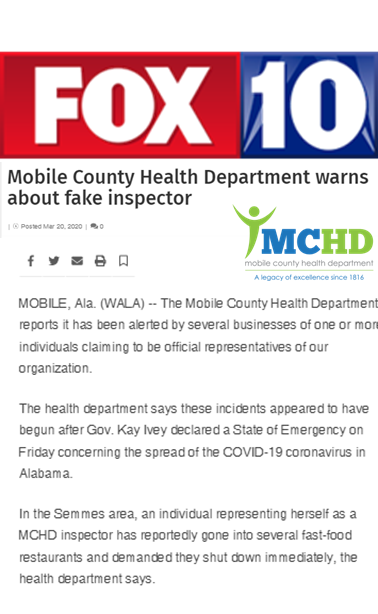 In India, (video given below), a group of "health inspectors" walk into a home to check the sanitation and the readiness for the prevention of Coronavirus. They soon administer chloroform on the unsuspecting lady to make her unconscious while they get away with the loot.
What is the solution, and how can you securely & quickly verify the credentials?
ID cards today can easily be duplicated, and these sophisticated scamsters create fake identities easily. One way to ensure that the citizens can verify and trust the officials is to have a secure QR code printed on the ID that will help the citizens to quickly verify/authenticate the ID card holder and their information before allowing entry.
Why Secure QR Code Solution ?
Secure QR codes is a proven technology on this front. Such a solution is simple, efficient, and affordable. These QR codes allow key information to be validated very easily by just scanning the QR code since they follow standard PKI (private key/public key) protocol while keeping the information highly secure and tamper proof.
How does the solution work ?
The health authority creates a unique digitally signed QR code for each ID which cryptographically encodes all the details like name, designation, photograph, other important information etc on the ID card, at the time of issuance of the ID card. This secure QR code is then placed on the ID card itself. Even electronic ID cards can carry this secure QR code.
Secure QR code generation and verification for ID cards
Now when presented with an ID card with a secure QR code - the resident will simply scan the code with the validator app (in this case - could be a government approved app) on their smartphone which can verify the digital signatures and present the authentic information instantly. It is simple, fast and easy for everyone!
Secure QR code solutions go beyond just capturing data - they make the data tamper proof and easily verifiable on demand hence they can be trusted and this helps in efficient information processing and improvement in productivity
Using such a simple secure QR code solution, health and other government departments across the world can create secure tamper proof IDs for their staff and extension workers. There can be several add ons and features which can be controlled through the QR code - allowing remote revocation or updation of the cards (changing of the validity period) and so on. Moreover, each time the genuine card is scanned the system can keep track of the use including location and can thus provide specific data which aids the analysis of post event investigations.
---
Other similar articles
---
---