#COVID19 has changed the way universities hold convocations and graduation ceremonies
How India's Ashoka University leads with electronic transcripts
#COVID19 has changed the way universities issue degrees and hold convocations
In our previous blog post, 'Has the time for Electronic Degrees arrived?', we discussed how colleges and universities are adapting to the post-COVID-19 world in adopting document security. Forged degrees and manipulation of mark sheets have been a menace for many universities. And that universities are struggling with solutions to stop document tampering and manipulation is no secret. There are various solution choices available – holograms, embossments, digital, RFID and smart chips, and Secure QR code. The challenge for educational institutions is that they need to implement the solution at an affordable cost, with a simple implementation and verification process.
Ashoka University has galloped ahead in the industry by going in for an encrypted secure QR code solution that ticks all the boxes. They had earlier implemented QR code solutions to secure mark sheets, transcripts and now with e-convocation and electronic degree certificates/scroll; their transition to an end-to-end solution to secure their documents is complete.
You can download the Ashoka Case Study here.
Can you extend the technology to convocations?
For many students, receiving a graduation degree scroll is one of the most memorable moments of their lives. COVID-19 has converted that moment into an online occasion from a physical one. Ashoka University wanted to recreate that magical moment with e-convocation and electronic degree certificates.
Graduation degree certificates hold an essential place in an individual's educational journey. On the flip side, such documents also have the potential to get tampered. This was one of the reasons why, in the past, universities avoided transition to the fully electronic mode and were issuing physically embossed graduation certificates.
"Once we decided on an e-graduation ceremony, we quickly brainstormed to create the new e-certificates with in-built security. We chose the Qryptal Secure QR code on the degree-certificates. That gave us the flexibility to use both electronic and the print medium (at a later date if necessary) and yet retain the integrity and trustworthiness in a globalized world." – Anu Batra, Director (IT) Ashoka University
The trick was to ensure that the electronic, secure, tamper-proof degree certificate looked similar to the physical scroll. Yet, it retained its authenticity and was easily verifiable by third parties across the world. This e-document may be printed and reprinted any number of times on a scroll/ canvas, photocopied or emailed across the internet without losing its trustworthiness.
Key Decision Factors for Technology Choice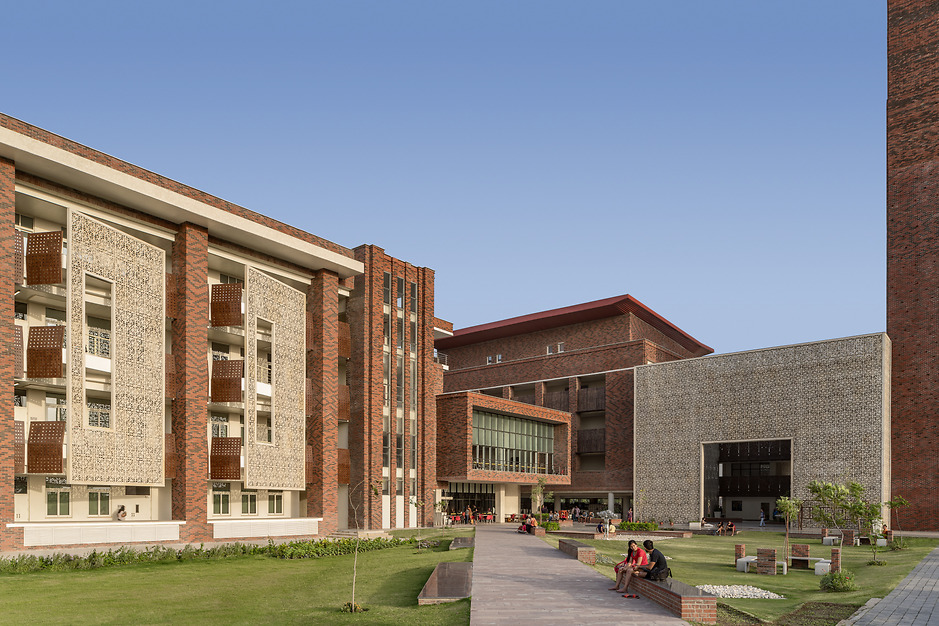 Ashoka University Campus
Ashoka University did an exhaustive and comprehensive study of the issues and available solutions to address this problem. After a thorough evaluation, Ashoka University zeroed in on Qryptal document security solutions. Their reasons for using Qryptal included:
Military-grade security for both digital and physical printed certificate formats

Easy API integration with Ashoka's Student Information System (SIS)

Integrated support for both secure code and document generation based on Ashoka's template layouts

Multi-user and audit trails

Responsive support
Sample University Degree - with Secure QR code
Since integrating with Qryptal, Ashoka University has generated thousands of certificates with more than a dozen templates for the various programmes. The system has been functioning efficiently for the university, students and third-party verifiers.
Here are eight reasons why QR code-based degree certificates/scrolls make perfect sense
Curbs degree duplication and forged degree certificates.

Degree scrolls are available in both physical and electronic form.

Easily verifiable by relevant third parties with a simple smartphone app or by visiting a specified university controlled web domain.

Provides easy access to a student's academic documents/records through Secure QR codes.

Helps maintain privacy especially of the document holder and the verifier.

Designed for all types of universities, budgets and tech infrastructure.

It can include all core information, including the name and place of the institution, the type of program, the mode of program delivery such as regular, part-time and so on.

Records can directly be stored into a depository (e.g. the National Academic Depository NAD) or equivalent, 24X7 online storehouse.
The current pandemic is also a time for innovation and transformation. Ashoka University shows us the way.
---
You may also like
---
---