3 important questions for Document Security
We had recently participated in a large technology industry forum in Dubai that attracted many thousands of visitors. Some of these visitors to our booth and Pavilion shared with us their feedback that document security continues to be a key issue across the world with no easy solution.
With rapid advancements in technology and the ability to recreate any document, security and easy validation of such documents have become a major issue. In an era of quick transaction processing, unless the document information can be trusted, there is scope for errors and losses which can be very expensive to rectify and reconcile.
Tampering of documents can take several forms such as manipulating simple ID cards or medical bills. Individuals may modify their payslips or mark sheets. Organized rackets come up with scamsters selling forged insurance policies to making false certificates of authenticity for diamonds. Such opportunities for fraud are plenty and here are the three important questions that you must ask about document security and see how Qryptal can help in this regard.
REIMAGINE DOCUMENT SECURITY - 3 MOST IMPORTANT QUESTIONS
1. WHY IS IT A PROBLEM ?
Forgery and fake documents have been plaguing many industries for a long time. The advance of technology and its widespread access have only made it easy for fraudsters to easily create and tamper documents. It prevents trust in the documents and hence causes associated problems in processing including higher costs, time and effort. Overall this leads to multi-billion dollar losses across many industries worldwide.
2. WHICH INDUSTRIES CAN BENEFIT FROM DOCUMENT SECURITY ? QR code based document security solutions work across industries and address the nagging pain areas in Banking, Insurance, Healthcare, Education, Government, and Certification & Testing agencies just to name a few industry groups. The solution caters to functional areas within organisations such as in Operations, HR, Finance and Accounting, Logistics.
3. WHAT IS A PROVEN SOLUTION WORLDWIDE ?
QR code based document security solutions - for example that being offered by Qryptal, are being used globally in several countries across large enterprises, SMEs, institutions, and governments. It has proved its worth in a range of use cases.
WHAT IS THE QRYPTAL ADVANTAGE
Qryptal has a unique Secure QR code-based document security solution that helps businesses and institutions to create secure tamper-proof electronic or printed documents that can be verified by third-parties on-demand, anywhere and everywhere. Qryptal has full control over the technology stack which allows the solution to be flexible to cater to all kinds of customers. Qryptal is agile and responsive in taking customer feedback & making enhancements to leverage the latest technologies and trends in the markets.
ABOUT QRYPTAL - WHO ARE WE ?
Qryptal was incorporated in the year 2011 in Singapore, with the aim of making information secure, tamperproof and easily verifiable, especially by people who don't have access to the source of the information.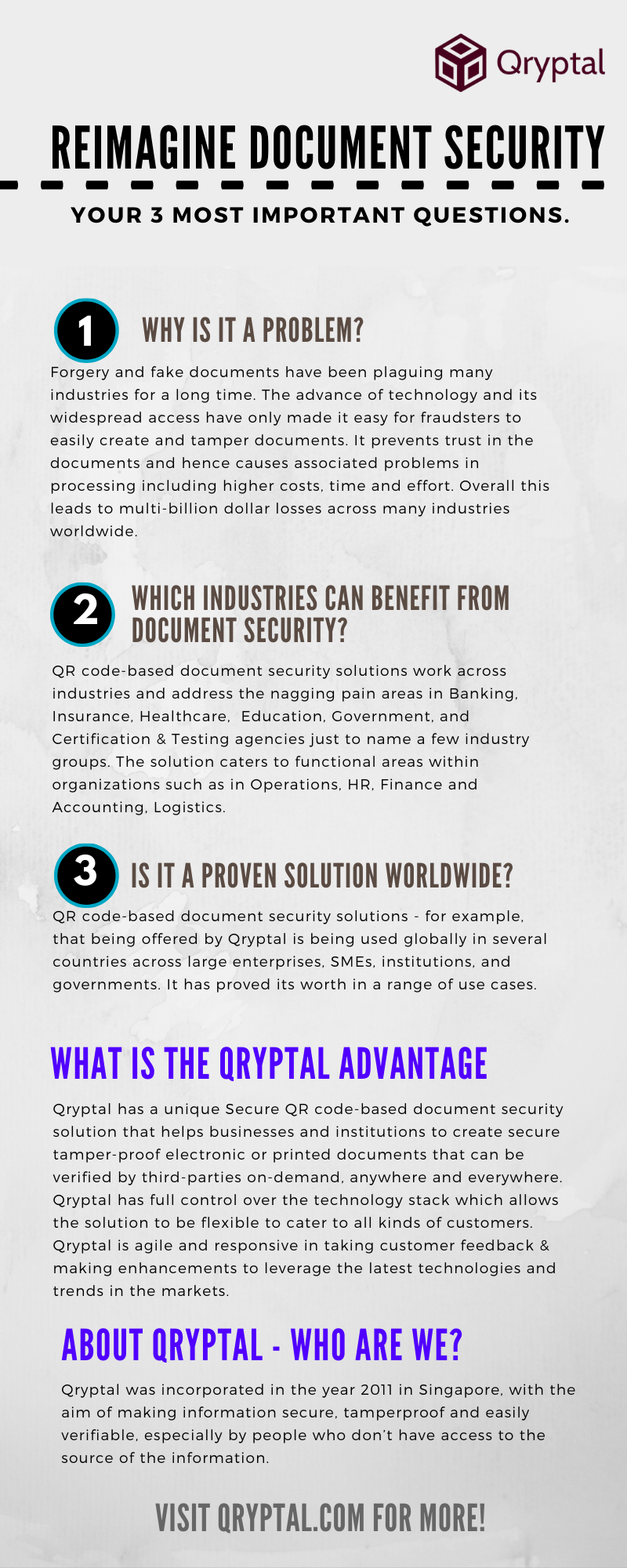 infographic
---
You may also like
---
---