QR Codes based document security can bring in the significant transformation to Insurance segment
An insurance scam that has checked all the boxes of a document fraud checklist
This is an insurance scam that has all the makings of what a perfect document fraud could be and what it could lead to. This is a scam, where genuine insurance documents were issued based on false documentation that was created at multiple levels.
QR code-based document security solutions is a simple way to prevent such frauds at multiple levels. Technology is a double-edged sword. As technology evolves and is taken advantage of by scamsters, it also provides a new set of tools to fight such attacks and frauds. Hence it is important that our governments, healthcare providers, and insurance companies adopt simple document security solutions using secure QR code (which is a positive technology development), to stop and prevent such scams.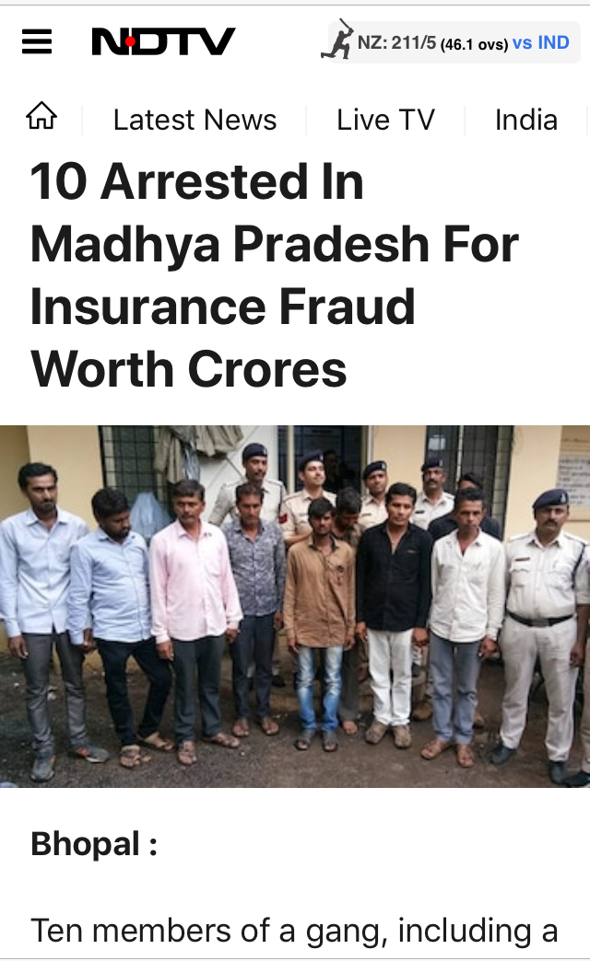 https://www.ndtv.com/cities/madhya-pradesh-dhar-10-arrested-for-insurance-fraud-worth-crores-2066943
When the Madhya Pradesh police, in India, unearthed the scam, it was not readily apparent that this fraud is not isolated to a small tiny town, but could potentially be rampant across the country and the world.
In this case of fraud in Madhya Pradesh, India, a gang of fraudsters would first identify terminally ill patients and get life insurance cover and vehicles financed in their names. They would do that by stating real names and would tamper with the age and medical condition of the patients. After their deaths, they would procure fake death certificates to prove that they have died of unnatural causes. The old and elderly citizens would be shown to be young in the certificates to inflate the value of insurance cover. Using the forged documents, the gang would allegedly claim insurance money from the companies.
"Till now, two cases have been registered and ten men of the gang, including a registered advocate (who is gang's kingpin) and a government doctor (who prepared fake autopsy report to establish accident as the cause of death), have been arrested. Four to five more such matters have come to the fore during the investigation," Dhar police chief Aditya Pratap Singh said.
Fake certificates to fudge identity, age, and even fake death certificates can help scamsters create a web of situations that would help them claim insurance. In one case, they could claim money for drip irrigation and agriculture. In another case, they purchased 8-10 vehicles, including a JCB machine, four cars, two tractors and two motorcycles financed in the name of a 70-year-old cancer patient who died. The local administration issued a death certificate. The gang, however, tampered the certificate to pull off a fraud. They mentioned in the fake document that the man was over much younger and that he died in an accident.
An investigation has revealed that the gang was also involved in other financial crimes including fraud committed through fake Aadhar, Income Tax Returns (ITRs), PAN cards, autopsy reports and death certificates.
While the probe suggests that they have caused losses of several crores to insurance and finance companies, the trigger for such losses almost always goes back to simple documents and identity proof. As long as any document of importance is issued, without the right document security, it is only natural that such documents would attract forging or tampering by scamsters and frauds.
Today, it is much easier to stop such frauds, by implementing simple secure QR code-based document security solutions. These document security solutions are simple, efficient and easy to implement. More importantly, such solutions make documents tamperproof, and readily verifiable by third parties checking for document authenticity.
How does it work ?
The solution is simple. It would entail the document creators to generate and print a simple but secure QR code on the certificates with data on the key fields like name, age, cause of death, some other key details, etc. (e.g in case of death certificates). As long as the third-party verifiers make it a policy to scan such secure QR codes, using an authorized app or other approved validation methods (validation server, etc), such scams can be easily prevented. This way any tampered or fake certificate would immediately show up as such for the third party verifier and can be dealt with appropriately.
---
You may also like
---
---