..it is time for hospital administrations to suture the gaps.
Some scam this - when heart transplants make your heart skip a beat !
When Singapore General Hospital, SGH, issues a red-alert in the newspapers, it is time to step back and ponder. SGH is the first and largest hospital in Singapore and provides affordable specialist care for patients, training for doctors and other healthcare professionals, and engages in research to bring better care to its patients. This is a not-for-profit institution and provides for cutting edge healthcare to patients and helps improve healthcare systems.
In a country like Singapore, where the crime rate is one of the lowest in the world, it is simply unimaginable that a bunch of document tamperers can try to pull off something like this.
This October, just last month, the Singapore General Hospital issued warnings against a scam that involved fake invoices bearing its logo. Though it was unclear from the wording of the phony invoice how the scam is supposed to work, it was reported that it was possibly sent to get easy money from unsuspecting persons. The hospital filed a police report, and in this case, it was reasonably easy to know that it was a scam (grammatical errors and poorly worded for example), but we should be alive to the possibility of "real-looking" fake hospital invoices from reputed hospitals, which can cause millions of dollars in losses.
Such fake invoices could have been used to claim against an insurance policy. They could be used to borrow money from lenders or may involve billing directly to patients in some way, getting them to pay up and causing them to lose money.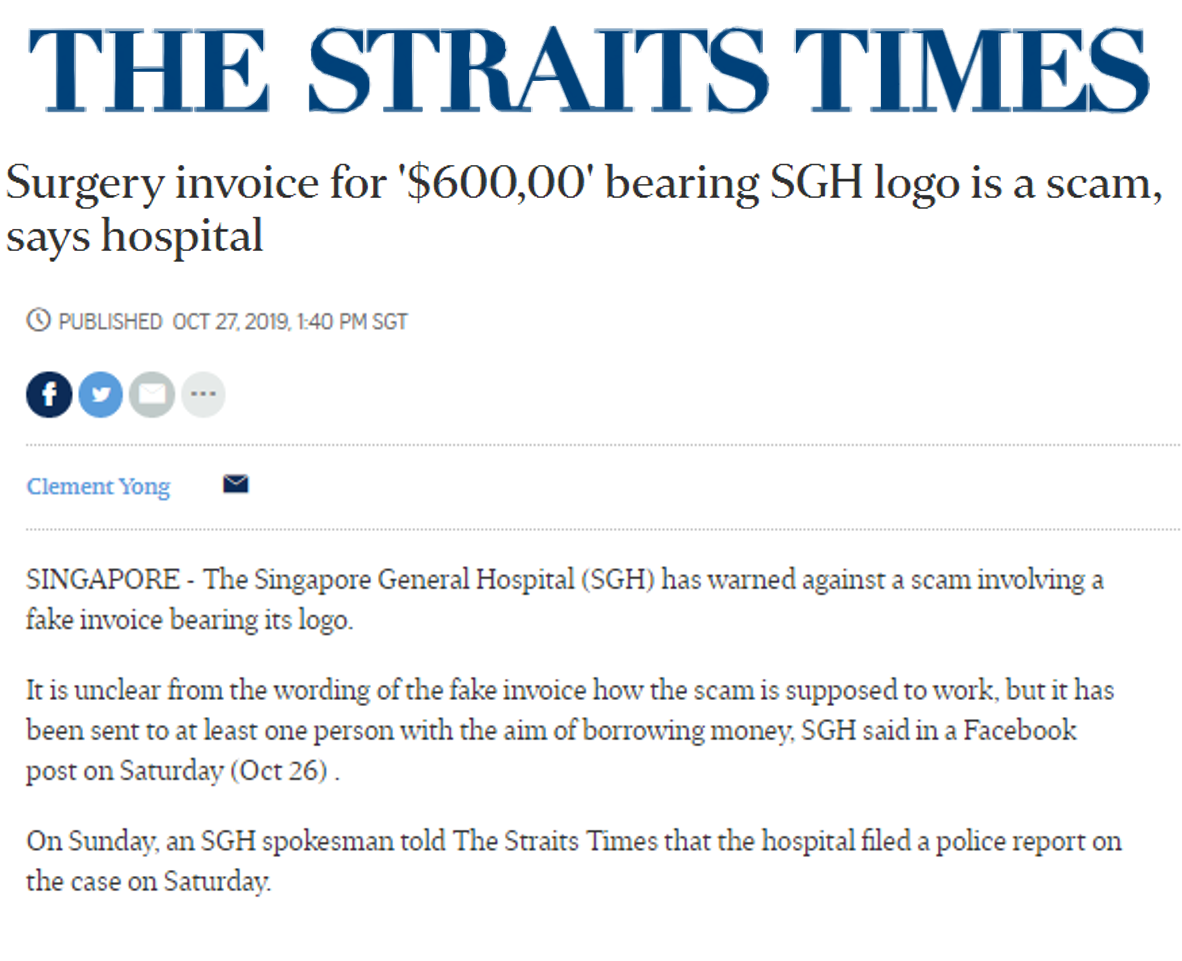 https://www.straitstimes.com/singapore/surgery-invoice-for-60000-bearing-sgh-logo-is-a-scam-says-hospital
As one would observe, the fraudsters usually create a fake invoice and generate a sense of urgency, thus pushing for a quick disbursement or decision making using emotion and time as tools.
An easy way to help solve this is by getting reputed hospitals to have a secure QR code with the bill details embedded in all their receipts and invoices as a standard practice. With the right publicity and communication, anyone with a smartphone would be able to verify the QR code with an app (this could be made available as a download from an official Government website or hospital website or even the insurance companies websites).
This is how it can be done
The hospitals or the government or insurance companies make it mandatory that hospitals should add a Secure QR Code, which will capture details such as Hospital Name, Patient Name, and other identification details, procedure, medication specific information that would typically be on the invoice.. This high security, tamperproof QR code, can only be created by the issuing organization/hospital. This QR code is machine-readable, and the information inside can then be cross-checked using a smartphone app or even online using web validation tools.

Each QR code is unique for every invoice/ discharge summary issued to a patient. The technology can be easily integrated with the existing infrastructure and can handle the necessary processing volumes.
Qryptal Secure QR code is privacy-friendly with no dependency on databases and no sharing of customer sensitive information.
---
You may also like
---
---