Stop this menace of Fake Driving Licences with simple Document Security QR Code
The problem: the scourge of fake and tampered IDs
The menace of fake driving licences is prevalent across every country in the world. Not only are the large fleet operators affected as in the past, but with services like Uber, Lyft and Ola popularising cab sharing, the problem has only escalated. It translates into a significant loss of life and damage to property for both the driver and the passengers.
With reports showing that a considerable number of drivers who use our roads with false and illegally obtained driving licences, it has become necessary for fleet operators including truck and bus owners to thoroughly test any new driver who they intend employing. In developing countries like South Africa and India, the media reports present an alarming number of false driving licences– it is estimated that one in three vehicles on these roads are being driven by drivers who may not have been taught the basic rules of the road, or how to drive in a safe and proper manner.
It looks like it is far too easy to obtain a fake licence if one is willing and able to pay a bribe or alleged 'fee'. False licences can be obtained for all driving licence categories, including extra-heavy commercial vehicle licences. Much as it is the fleet owner's responsibility to ensure that the person, he, or she allows to drive the vehicle is properly licensed and competent to do so, sometimes they simply cannot validate the documents.
Why is the problem so rampant?
When an ID card is issued by the transport department to an individual and subsequently is presented to third parties, including the fleet owners and police, one cannot easily find out if the ID is fake or genuine. The 'checker' has no easy means to validate the license because the trustworthy data resides within the database of the Transport Agency - the authority which issues driving licences in your respective country. Similar issues occur when you wish to use the driving license for other purposes: renting a car/apartment, applying for a loan/credit/passport etc.
For such important IDs like driving licences, even the general public (fleet owners, passengers for example) should have an easy mechanism to validate the credentials.
Why is it so easy to make fake Driving Licences?
With sophisticated software, scanners, and printers - these days any fake ID can be produced in any part of the world. Further, adding physical security features like watermarks, holograms etc work only for the people who know what the current feature of your documents is (e.g. difficult for third parties to know that your documents from 2016 use this hologram and from 22-Feb-2018 your organisation switched to another hologram).
How can you quickly verify the credentials?
With services of Qryptal, the issuing organisation simply generates the unique Qryptal Secure QR Code for each ID card. This code encapsulates all the key details of the ID including photographs. After this, third parties use a free Validator app to simply scan and verify the ID details on demand. It also allows the revocation or a renewal of the ID card when needed, and scanning the QR Code shows the updated information at any point of time. Find how it is done – here
This is how the technology works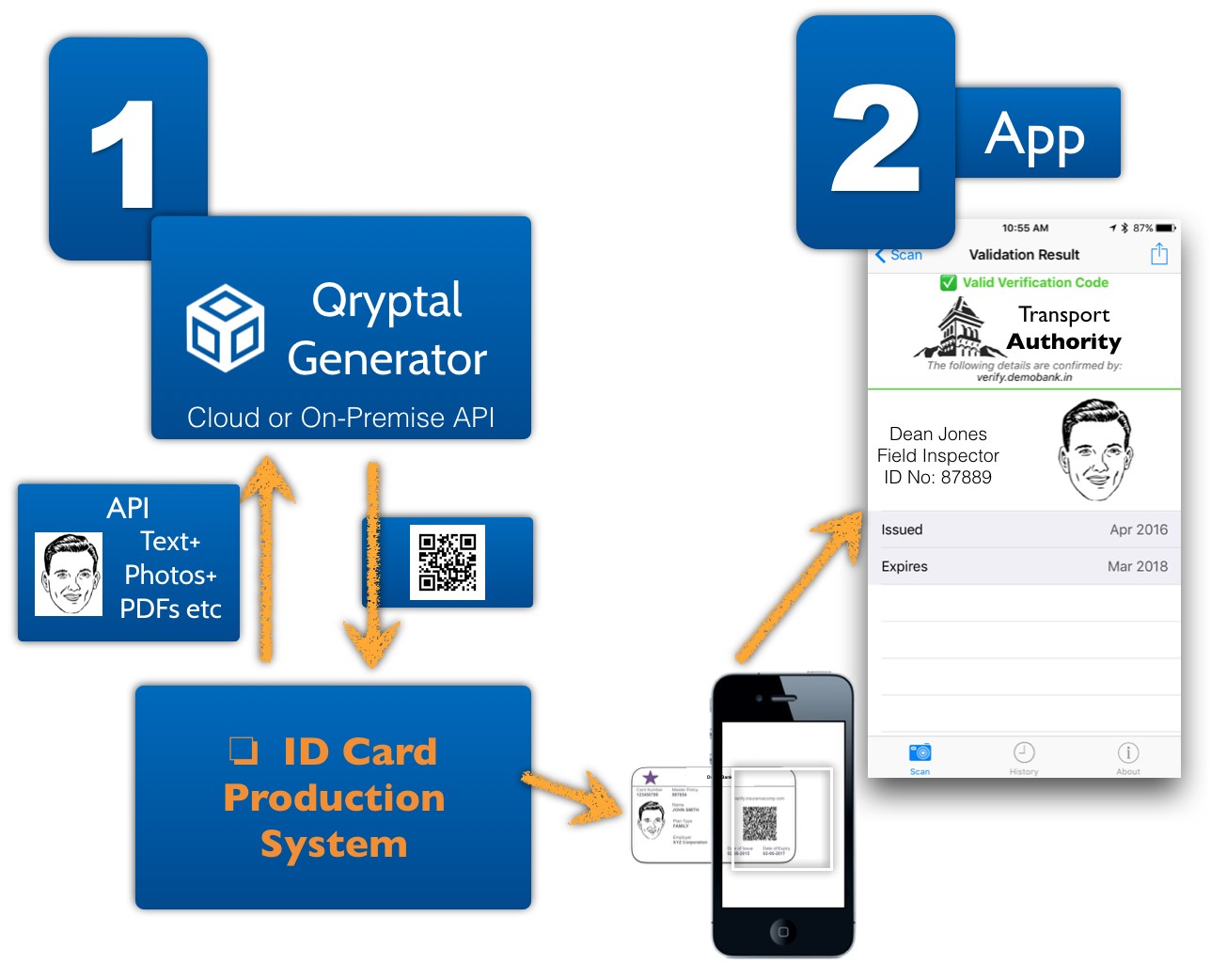 Easy integration with existing ID Card Production System
Complete Card life-cycle management including revocation/renewal
Easy to validate: simply scan the Qryptal QR Code
All round security and privacy: validation with digital signature verification is performed by App on device
You may also like to read the following posts
-Stop Fake Degree Scams with Document Security QR Code
-What Bulgarian Passport Scam Teaches Other Governments about Fake Passports?