A Simple Cheque Security Solution with Secure QR Code
Here's an overview of cheque security solution with QR Code
Typically, the cheques issued by banks have to comply with strict guidelines in terms of embedded security features as well as steps to be followed during the processing. But the scamsters also have access to sophisticated technology which can replicate most of these features on counterfeit cheques and make it impossible to distinguish between the original and the fake especially in image-based cheque processing. It is also possible to get the signatures of the original account holder through underhand means so as to pass through that checkpoint too. But, technology is a double-edged tool — and also provides a way to address this problem!
One way to do this is to add a Secure QR Code with details such as cheque number, account number and bank code stored inside. Cutting-edge technology similar to hyper ledger ensures that this high security, tamperproof code can only be created by the issuing bank. This QR code is machine-readable and the information inside can be cross-checked with the MICR information to validate the cheque and identify the fraudulent ones. Most importantly the QR code is unique for 'each' cheque and can only be generated by the issuing organization. The technology can be easily integrated with the existing infrastructure and can handle the necessary processing volumes. Qryptal Secure QR codes used for financial services are privacy-friendly with no dependency on databases and no sharing of customer sensitive information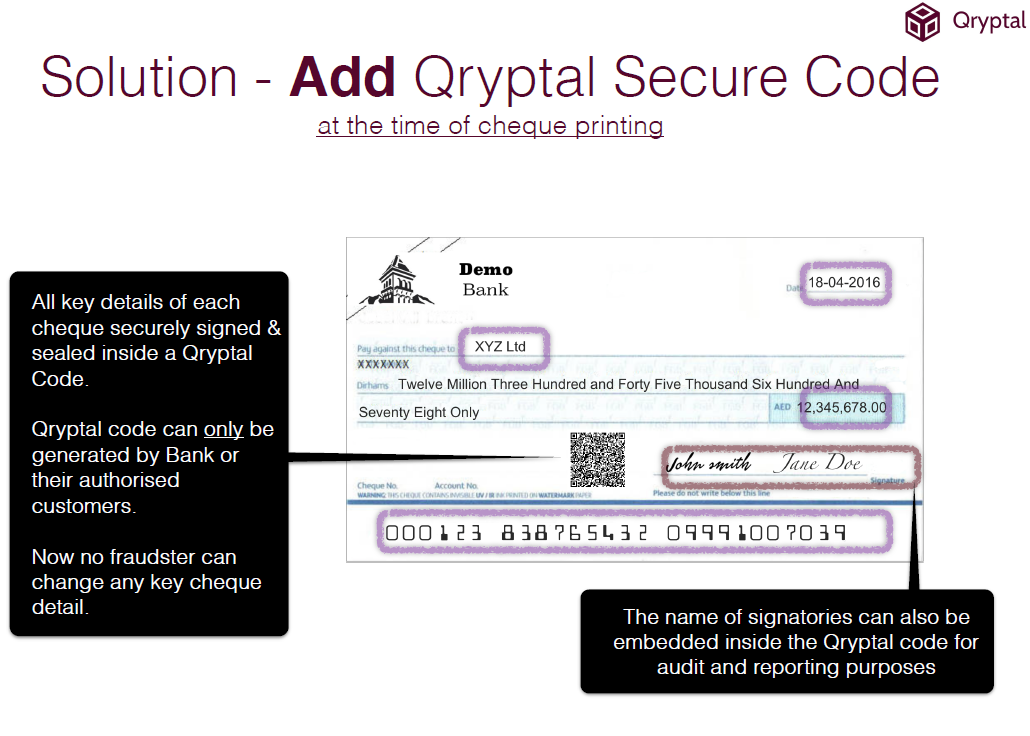 The QR code based cheque/payment system is easy to implement and does not need a significant reworking of the current workflow of cheque processing.
To know more, please write to info@qryptal.com. We can help you with a Banking Whitepaper that can help you prevent cheque frauds.
You can download your banking whitepaper here.
---
You may also like
---
---