Singapore takes the lead with verifiable QR ensuring authenticity with simplicity
What Singapore does today, the world follows tomorrow. Or so goes the adage.
In yet another first, babies born in Singapore will be issued only digital certificates, and physical birth certificates will no longer be issued. This is the Singapore government's effort to streamline digital services for the benefit of the citizens of Singapore.
The new QR coded birth and death registration certificates, triggered by a simple app-based registration process, will significantly simplify and allow parents of newborns and the next of kin of the deceased to download and store digital certificates on their mobile devices and laptops.
This will simplify digitalization, but this also frees up resources in hospitals and ministry/government.
Registering Births and Deaths
While the newborns are registered within 42 days of their child's birth, parents will be notified to download their child's digital birth certificate on ICA's (Immigration and Checkpoints Authority) website using the electronic retrieval of certificates and instant verification e-service. Parents can download the digital birth certificate for up to 90 days, and the same can be stored and saved on their devices.
For deaths, the death will be automatically logged in ICA's system once the medical practitioner certifies the death. The system will generate a digital death certificate. The medical practitioner or hospital staff member will provide the next-of-kin with information such as the digital death certificate number to allow them to download the certificate from the 'My Legacy' portal. They will be given up to 30 days to download the certificate, which can be stored on their devices.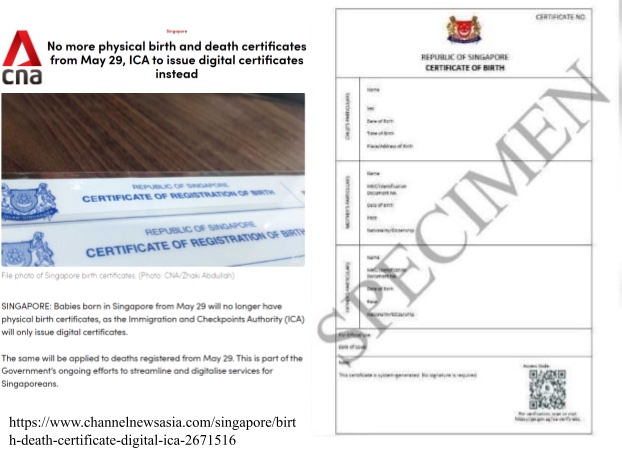 You, too, can do this if you are a government authority in charge of issuing such certificates:
In our experience, these are the usual requirements of such a system:
These documents are usually verified or checked by 'third-party validators' through the person's life cycle or for many purposes after the individual's death.

You would not want these 'outside' verifiers to access databases, servers, or systems for security reasons.

Hence the certificate issuing authority would 'issue a verifiable document'(e.g PDFs with Secure QR) generated by the core system in physical or digital formats (phygital).
This can quickly be done with Qryptal's secure QR solutions and often can be depolyed within days. Having worked with governments across the globe, Qryptal's novel architecture provides ALL the above and much more:
Architecture:
3072-bit Security: Secure QR code solution is based on PKI; with equivalent of 3072 bit, it is much more secure than a typical birth certificate issued.

Off-line Verification: Since the Qryptal QR code is self-contained, no network connectivity is needed to validate the information. Thus, the verification can work anytime and anywhere, including in secure air-gapped environments.

Physical-digital: Works for electronic as well as printed birth/ death certificates. This blend of the physical and digital world is where a secure Qryptal QR is generated digitally and can then be placed on both the physical and the electronic versions of the document as required. As a result, both the printed copy and the electronic format of the original document carry the same level of security and can be verified easily.

Privacy: Qryptal helps safeguard and protect the privacy & confidentiality of the authority and institution as well as holder of document in an uncomplicated logical manner.

Serverless Architecture: Qryptal QR code solutions are built on a server-less architecture that enables the solution to scale and is virtually maintenance-free. Since there are no servers, once the document is issued - no further infrastructure is required or needed to keep it verifiable and tamper proof.
---
You may also like -
---
---