and how we help Global Organizations in their pursuit of Document Security
In 2022 alone, more than 1,000,000,000 devices may access QR codes and there maybe billions of QR Code scans. QR codes are the future of intelligent verification systems, with Secure QR codes being introduced to make transactions secure and verifiable. Qryptal works in this domain and solves this problem by making it easier and more convenient with their secure QR technology. Qryptal addresses the many different components - Emerging QR Standards to the future of Secure QR, Block Chain, Easy Verification, Offline QR, and Phygital Security, to name a few. Here are 14 areas that Qryptal addresses and that should help in your search for a Secure QR solution.
1. Breakthrough Technology: Qryptal is a breakthrough technology company in document security and provides an easy and safe way to digitally share documentation to everyone from anywhere with just a few clicks
2. Cross Industry Uses: Qryptal works with government bodies, corporations, banks and financial institutions, universities, healthcare providers and testing laboratories, and small businesses to help create document security solutions. They also provide document protection so you can trust the documents and rest easy, knowing they're protected and easily verifiable.
3. Easy Installation: Qryptal is made for you! It's easy to use and install. The technology behind QR codes is already familiar to many and is in commercial use.
4. Easy Verification: Qryptal Secure QR Code enables you to quickly verify even the most complex documents, such as legally binding licenses and agreements.
5. Emerging New Standard: Qryptal Secure QR is a new standard for QR codes. Using a concept as strong as blockchain but a lot more affordable and easier to implement, secure QR is the future of QR code applications. Secure QR codes are great for creating tamper-proof documents with an in-built verification mechanism online or offline, avoiding an intermediary and saving time for everyone.
6. Encryption Technology: At Qryptal, we make it easy to transform your business with our patented high-end encryption technology. Not only do we deliver authentic, accurate data, but it's scalable and offers high compatibility across mobile apps and digital platforms.
7. Inbuilt Cryptography based Security Features: Qryptal Secure QR Code uses the best of both worlds blockchain and Secure QR codes. It has inbuilt cryptographic features that help to protect your personal information and valuable documents and make your verification faster and more secure. Read more at https://www.qryptal.com/blog/why-choose-secure-qr-code-over-blockchain
8. Intuitive and Simple: Qryptal is a simple, intuitive, and secure way to share your documents with others. By quickly scanning a QR code, you can verify the legitimacy and content of a document.
9. Peace of Mind: With secure QR code technology, you have peace of mind knowing that your data is safe, so you can focus more on securing documents digitally for an increasing number of use cases.
10. Phygital Capabilities: Qryptal technology includes "Phygital" capability with technology that allows you to convert any physical document into a digital file or vice-versa and yet retain the security and verification system intact.
11. Privacy and Integrity of Data: Qrpytal Secure QR gives you confidence that the transaction will be secure. Data privacy and integrity is maintained with a verification that can happen in a serverless environment.
12. Secure Entire Transaction Chain: Qryptal QR Code prevents data breaches by ensuring security and reliability throughout the entire transaction chain.
13. Applicable to a Wide Array of Use Cases: From invoices to trade finance documents, from COVID Vaccination Certificate to School Marksheets, use Qryptal to quickly verify all your documents in less time than you ever imagined.
14. Qryptal Commitment: At Qryptal we are committed to providing the highest levels of service to our customers and partners and work diligently to develop the highest level of security and information integrity.
Here's an example of a Qryptal QR code that is used for securing a vaccination certificate.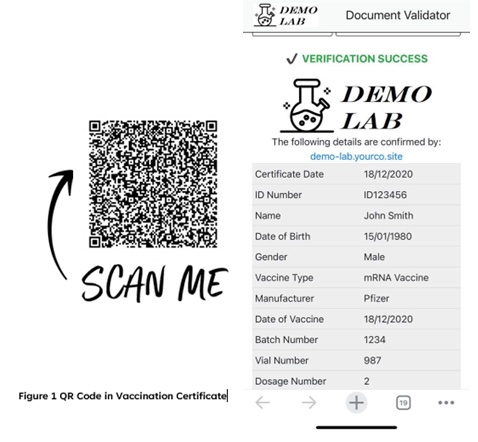 Here's another example how a complex AI generated image is converted to a QR Code
---
You may also like
---
---