Rajesh Soundararajan
March 6, 2023 - 5 min read
UIDAI and Qryptal both offer secure QR code solutions for authentication and verification purposes. While UIDAI is primarily focused on Aadhaar verification services in India, Qryptal caters to a wide range of industries such as healthcare, finance, government, and education. In this article, we'll compare and contrast the advantages of their solutions and explain why secure QR codes an effective solution for authentication and verification purposes are. We applaud UIDAI's efforts in public education of secure QR codes and their commitment to data privacy and security.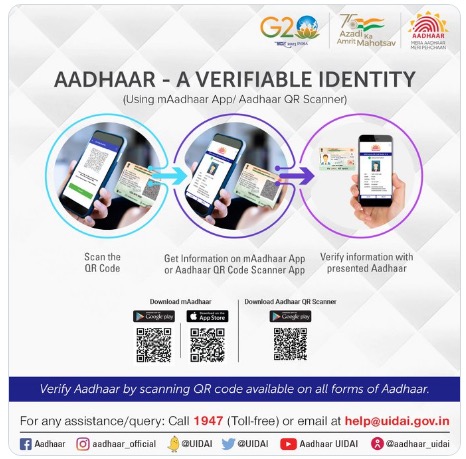 UIDAI
Qryptal
Secure QR code
Digital Signature
Authentication
Verification
Data Privacy
Encryption
Offline Verification
Compliance
Customization
---
Rajesh Soundararajan
February 28, 2023 - 6 min read
Certificates, permits, and licenses are crucial documents that various departments and authorities issue. Millions of these documents are issued every month, and they hold great significance in various fields such as agriculture, aviation, building and construction, health and safety, shipping and transportation, homeland security, police, commercial licensing, revenue and customs, medical and legal councils, corporate, and regulatory departments. However, with technological advancements, creating fake or tampered documents has become easy, which is a significant concern for governments and other organizations.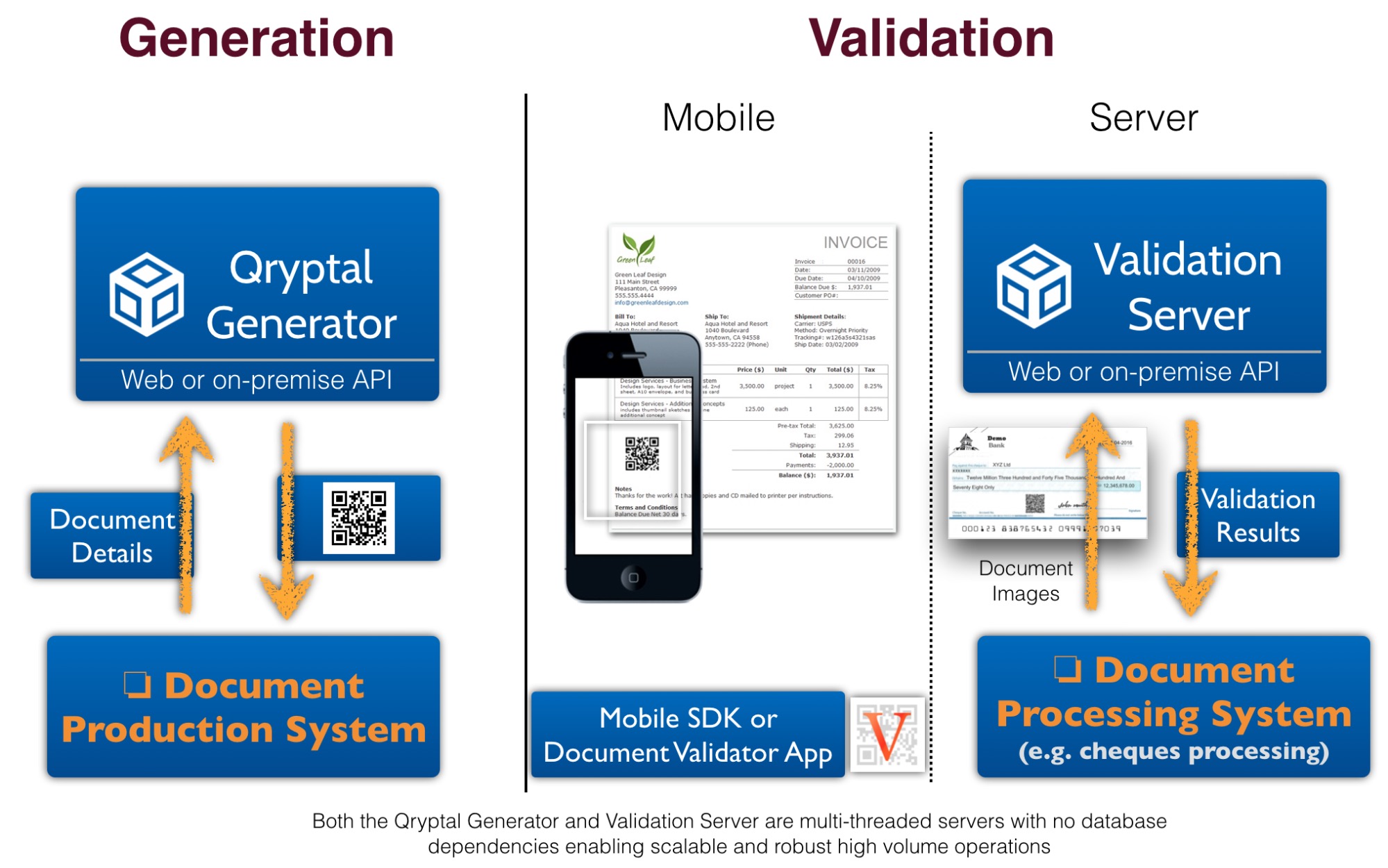 Secure QR Codes
Certificates
Licenses
Permits
Document Security
Innovation
Use Cases
Qryptal
QR Codes
Government Issued Documents
---
Rajesh Soundararajan
February 21, 2023 - 4 min read
Certified checks are a valuable tool for secure payments. They offer the recipient protection and assurance that they are receiving payment from a legitimate source. Certified checks differ from regular checks because the bank certifies that the funds are available and earmarked for the check. It's a type of "official" payment, one that provides the recipient with a source of guaranteed funds. Sometimes certified checks are confused with banker's checks but there is a critical difference - the latter are drawn on the bank itself where the bank has actually taken the funds from the customer into an escrow account and issued a check against it.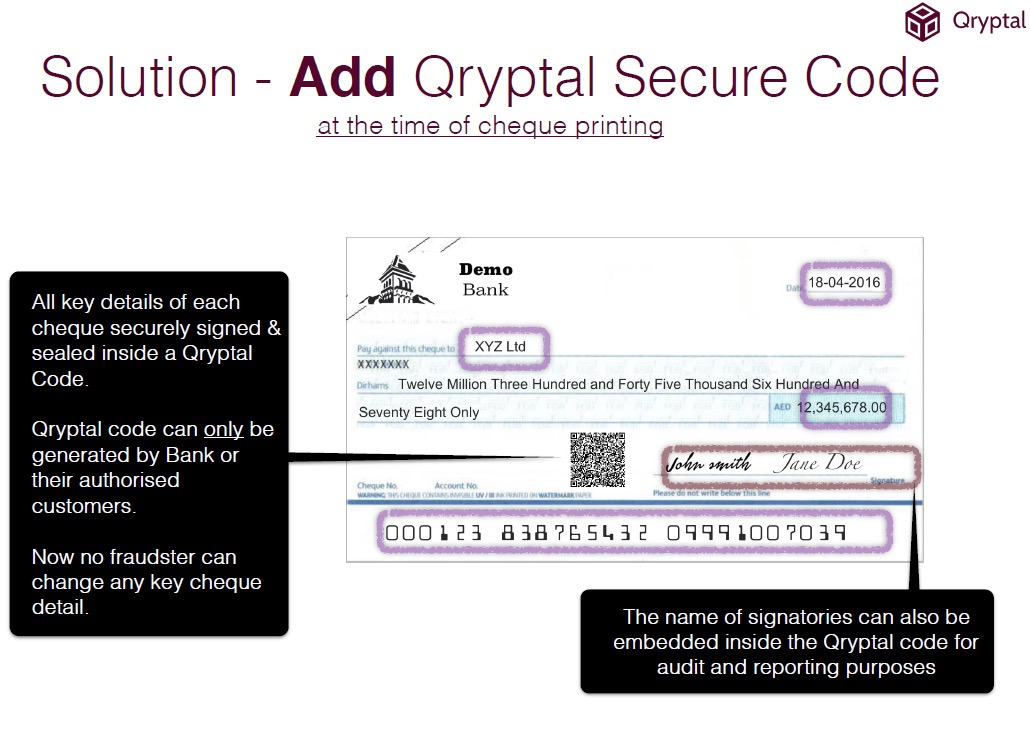 Certified checks
Secure Payments
QR Codes
Check Fraud
Payment Solutions
Qryptal
Banking Security
High-value Transactions
Fraud Prevention
Secure QR Codes
Check Security
---
Rajesh Soundararajan
February 14, 2023 - 4 min read
The recent Trafigura case, where the commodities trader alleges it has been exposed to "systematic fraud" to the value of $577 million of nickel, highlights the importance of document security in the trade finance industry. According to reports, Trafigura purchased a containerized shipment of nickel from Prateek Gupta's London trading company, TMT Metals Holdings Ltd, which was later found to contain no nickel. It is believed that Gupta's companies were known fraudsters, and other banks and financial institutions had lost money in dealings with these companies.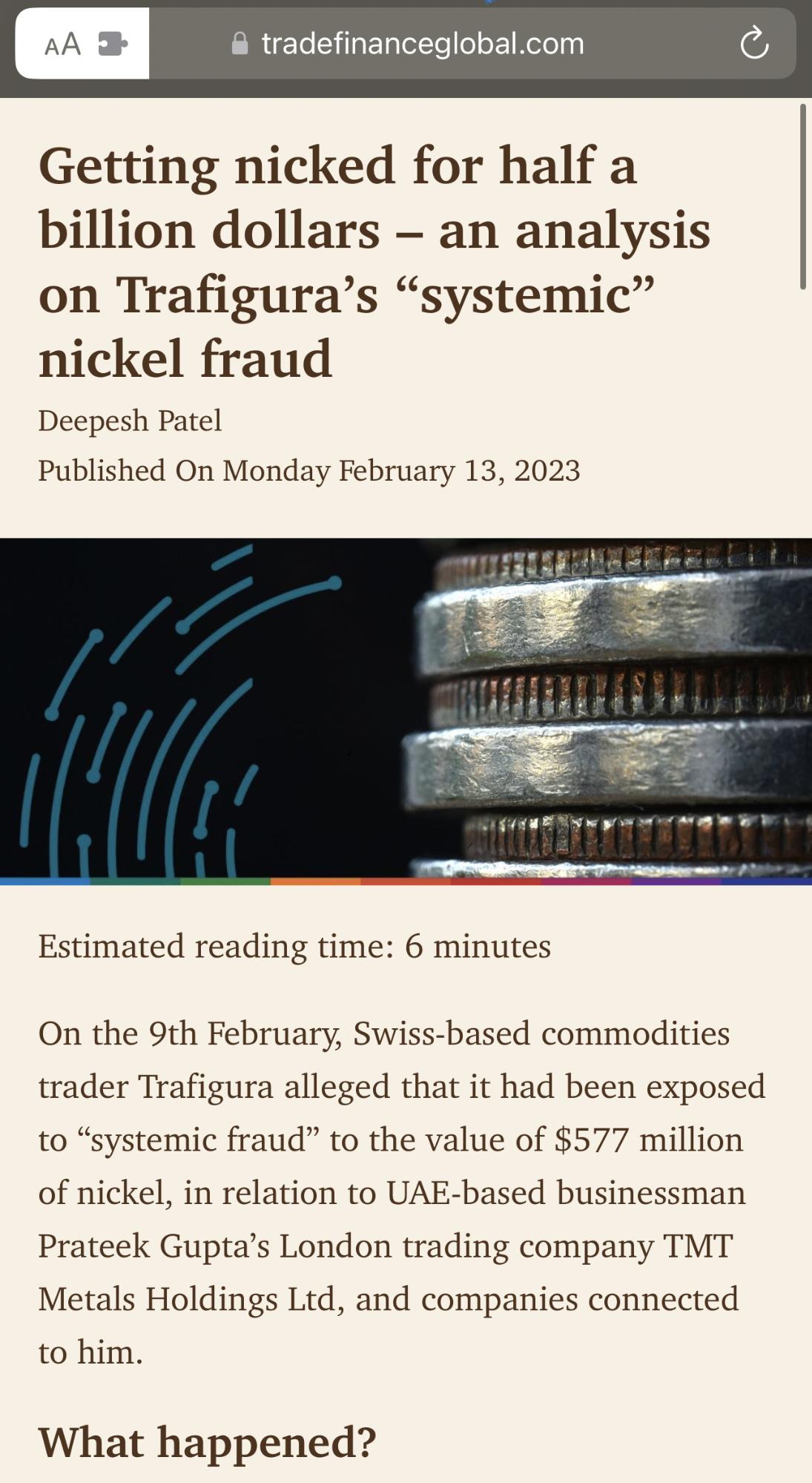 Trade Finance
Document Security
Fraud Prevention
Secure QR codes
UNCITRAL's MLETR
Qryptal
Tamper-proof documents
Digital Records
International Trade
Document Fraud Prevention
---
Rajesh Soundararajan
February 7, 2023 - 2 min read
Document security has become a crucial concern for businesses and individuals in today's fast-paced digital world. Moreover, with increasing document fraud, ensuring document protection from tampering is more important than ever. That's why we are excited to announce the availability of our latest whitepaper, Whitepaper - Document Security 2023, on the Qryptal website. The whitepaper, hosted in the resource section of our website, is a comprehensive guide to the latest developments in document security.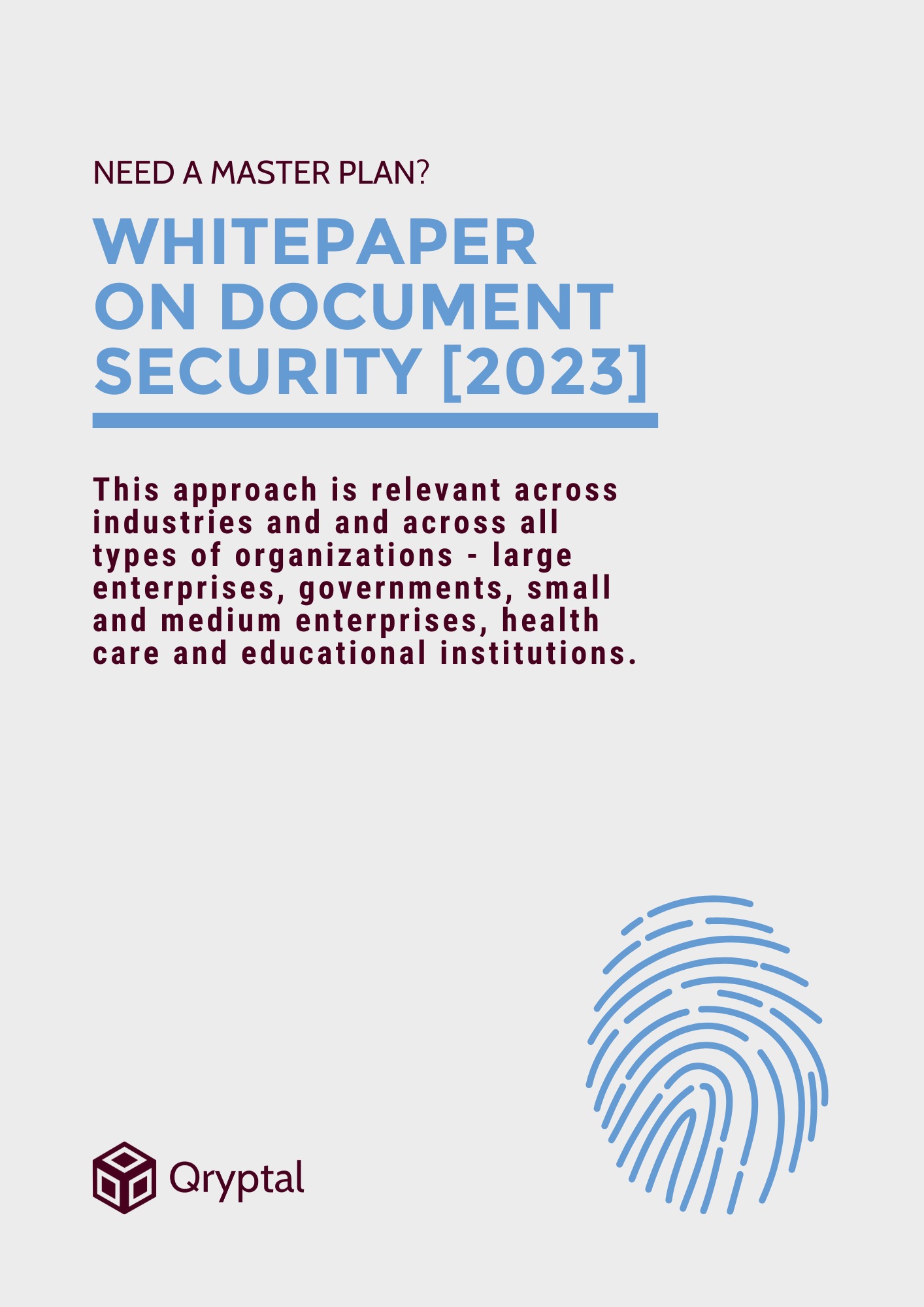 Document Security
Whitepaper
Download
Trends
Solutions
Information Security
Digital
Landscape
Qryptal
Secure QR Code
---
Rajesh Soundararajan
January 24, 2023 - 5 min read
As the world becomes increasingly digital, the need for having secure and tamper-proof documents has never been greater. Blockchain technology has been mentioned in the popular press recently as one such solution. The other solution is securing the documents with a digitally signed secure QR code. This blog will delve into the advantages and trade-offs of these two technologies and explore the energy efficiency debate. We will answer frequently asked questions such as "What is the main difference between blockchain and secure QR code?

Blockchain
Secure QR code
Document Security
Digital Documents
Energy Efficiency
Tamper-proof
Verification
Authenticity
Compliance
Regulation
Future Trends
Innovation
Technology
Cybersecurity
Data Integrity
---
Rajesh Soundararajan
January 17, 2023 - 5 min read
Qryptal is a revolutionary system that uses secure QR codes to automate and secure financial documents such as bank statements and cheques. The codes can be added to both electronic and printed documents and provide a high degree of security, decentralization, and credibility while also reducing processing time. If you're interested in learning more about how Qryptal can benefit your organization, you're in the right place! Our comprehensive Qryptal FAQ covers all the important questions you might have about this powerful tool.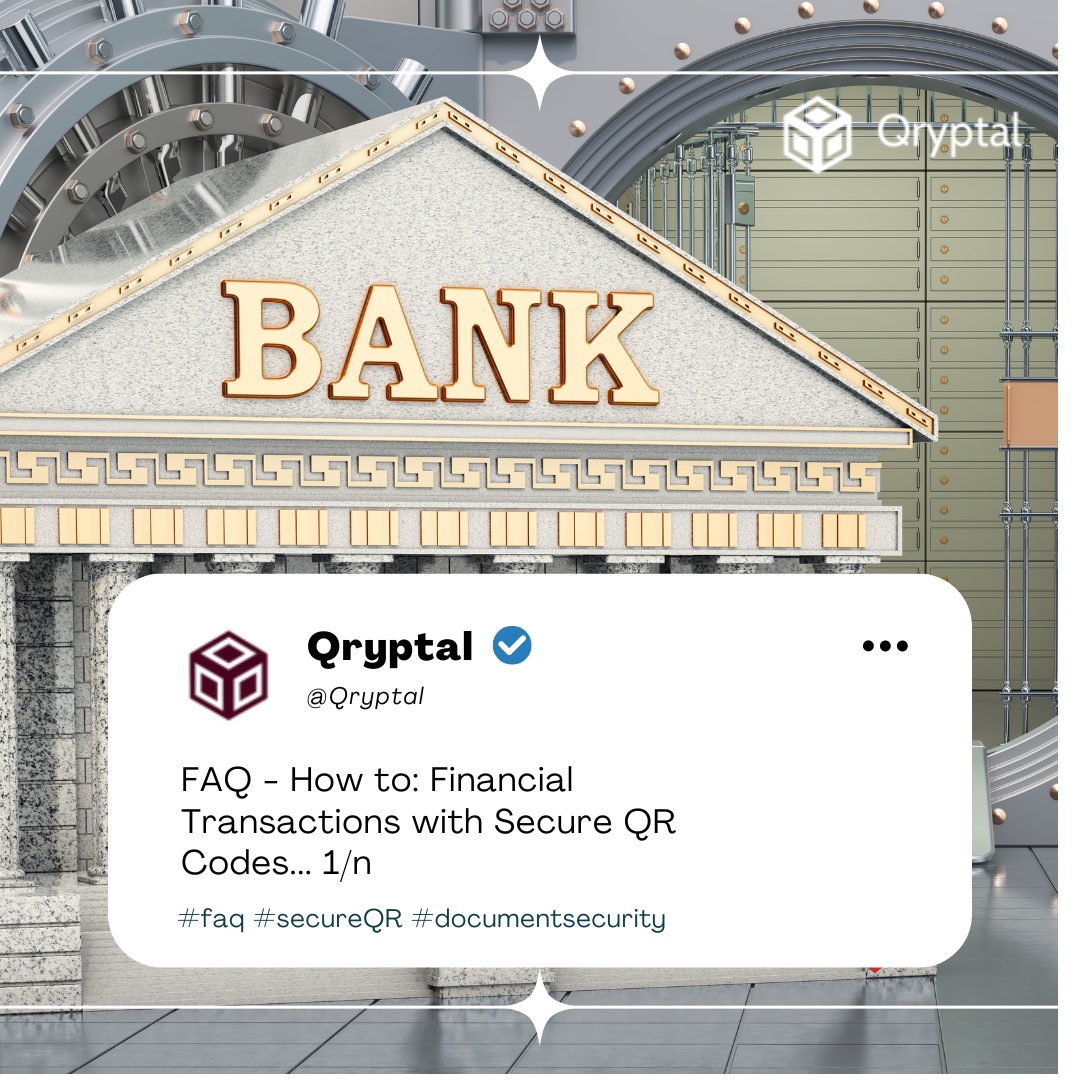 Qryptal
Secure QR codes
Financial Transactions
Banking and Financial Services
Bank Statements
Cheques
Payment Instructions
Trade Finance
Document Automation
Verification
Validation
Tamperproof
Easily Verifiable
Credibility
Processing time
Security
Privacy
Decentralization
Blockchain
Fraud Prevention
Electronic Documents
Printed documents
Integration
Digital signature
---
Rajesh Soundararajan
January 10, 2023 - 5 min read
Qryptal Secure QR Code technology is a unique solution that enables physical or electronic documents to be tamper-proof and instantly verifiable by any third party. It generates a highly secure digital signature with embedded data placed on the document as a QR Code, which can be easily verified by scanning the code with a smartphone app or a web validation mechanism. This serverless solution is built on PKI and has a key size equivalent to 3072 bits, making it highly secure.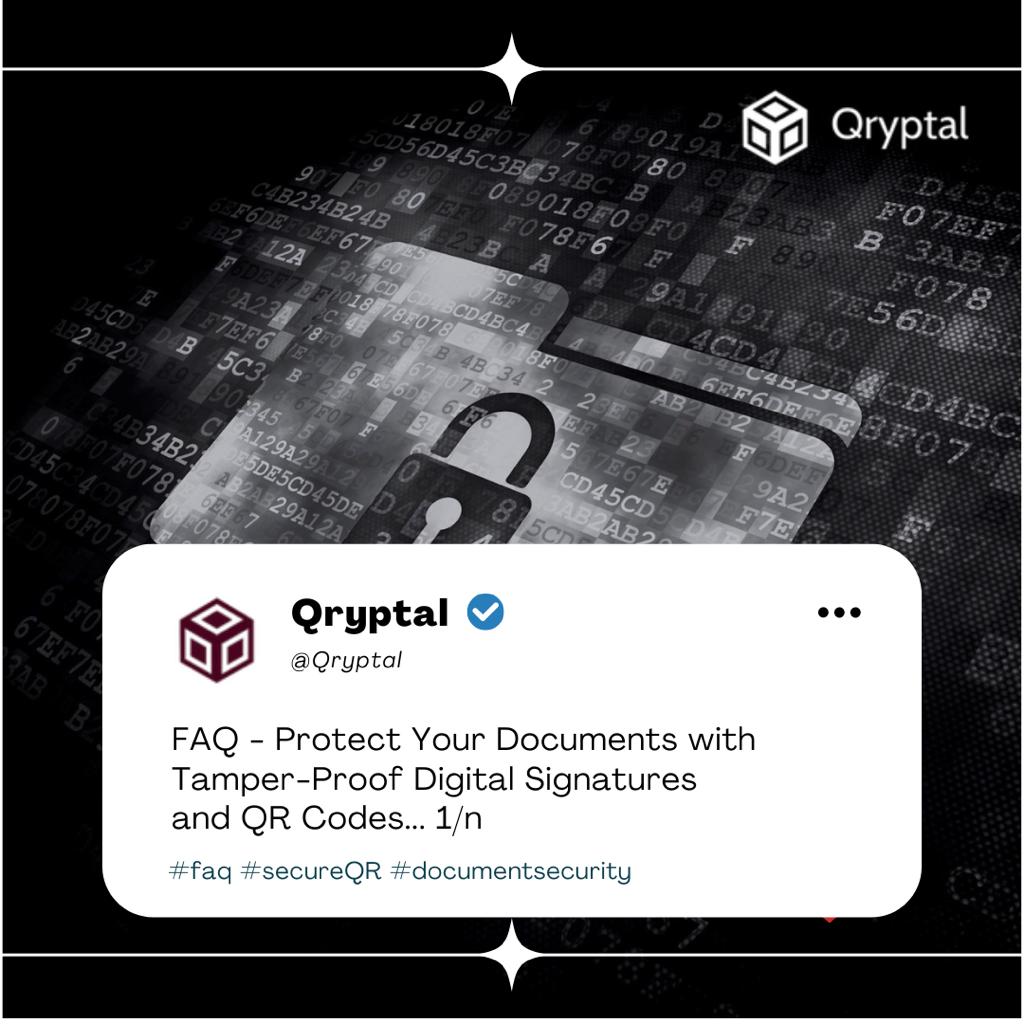 Qryptal Secure QR Code
Tamper-proof documents
Digital Signature
QR Code
Smartphone App
Server-less architecture
PKI
Offline use
Electronic documents
Physical documents
Privacy protection
Confidentiality
Primary Data Codes
Extended Data Codes
Revocation
Chaining
Qryptal Generator API
Document Validator App
---
Rajesh Soundararajan
January 4, 2023 - 6 min read
The hottest trend in the tech world is OpenAI and ChatGPT, and we at Qryptal wanted to take it for a spin. So we asked some specific questions about #SecureQRCode and Blockchain. Initially, we tried OpenAI's Q&A and then had ChatGPT share the differences in tabular format. This is what we saw. Q&A on Open AI, Playground Q: What is a secure QR Code? How is it different from a standard QR Code?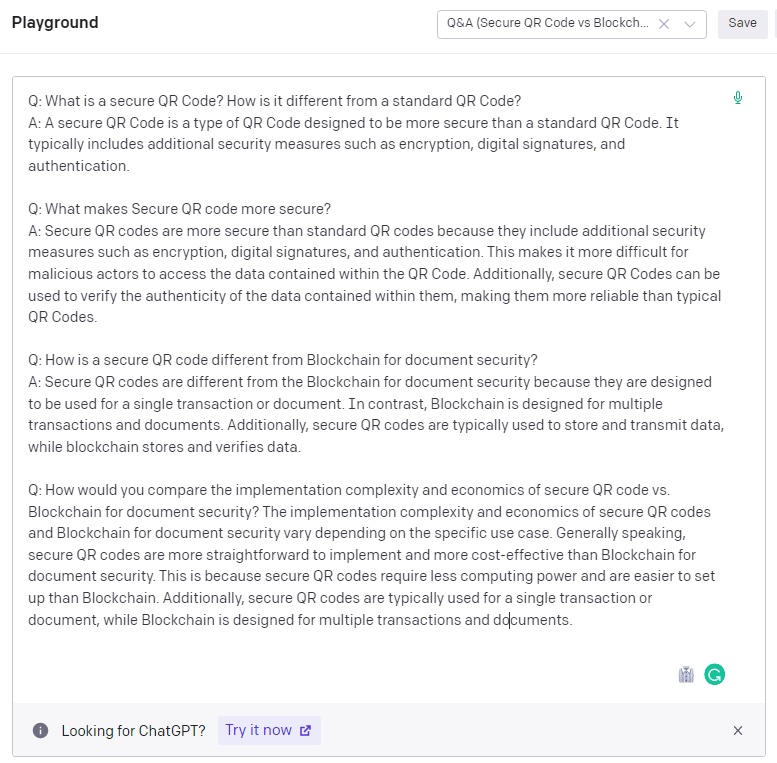 OpenAI
ChatGPT
Secure QR Codes
Data Encoding
URLs
Text
Smartphone
Tamper proof Documents
Document Security
Blockchain
---
Rajesh Soundararajan
December 6, 2022 - 6 min read
PDF generation with secure QR codes is a technology that allows for the creation of PDF documents with embedded secure QR codes that can be used for secure and efficient sharing of information. These QR codes can be used to encode a variety of data, including URLs, text, and other types of information, and can be easily scanned using a smartphone or other device equipped with a QR code reader.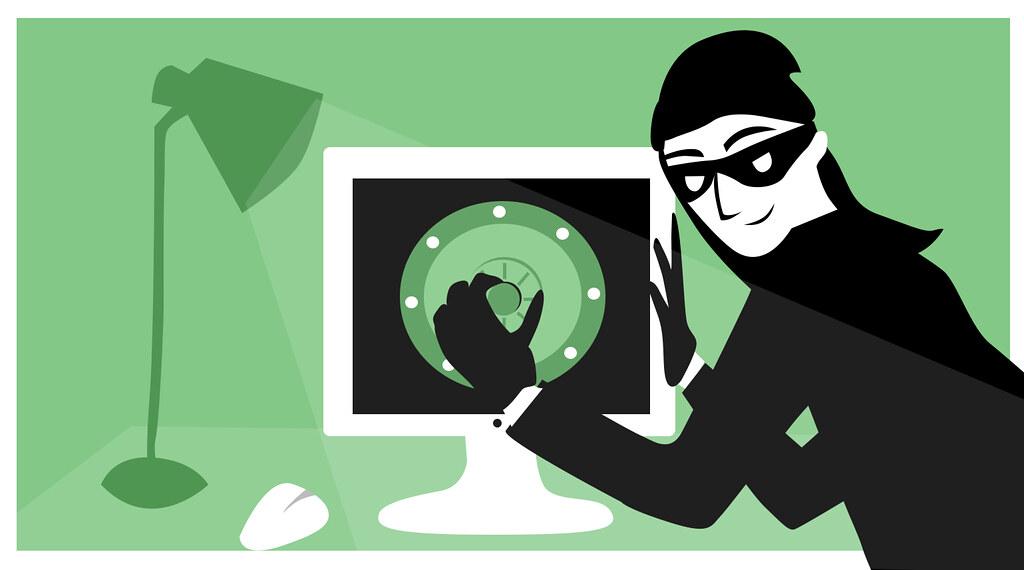 PDF Generation
Secure QR code
Data encoding
Secure Documents
URLs
Text
Smartphone
Streamline Processes
Document Security Secure QR code
Tamper Proof Documents
---
Leading organisations and brands rely on Qryptal
We have customers and users in most parts of the world.